Tuesday, July 02, 2013
Yesterday on our town trip for freggies, we poked around in some shops and I found this super cute pitcher (and you all know I love cats, and collect them in every form).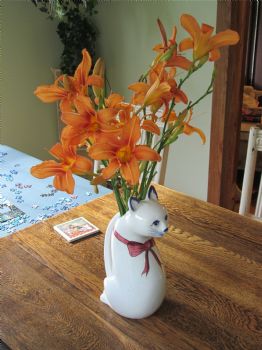 These day lillies are growing wild everywhere on the road sides and trails (where there is sun) and I was looking for something to put some in for our table. The cat pitcher holds them perfectly! Each day new ones open so we have fresh blooms on the table, and I don't have to pick every day.