Sunday, June 30, 2013
Wowsers! The past week has been NUTS! I haven't been able to get on here for any amount of time except to log my food.
First, work was ridiculous this week. Second, I had to take my son to orientation at his college on Wednesday and Thursday....ALL...DAY...LONG..
.both days. It was miserable. We had done so much research and proactive stuff that we were bored to tears most of the time. I was walking through the student union and got asked if I wanted to join a sorority...made my day. I couldn't believe it! The perks of being a young mom... :)
Hubby and I watched a movie Friday night and actually went to bed early. Saturday morning we went to the beach and then last night we went and watched my brother in law's band play at this really cool hole in the wall bar/restaurant.
Tonight we went to my mom's house for dinner...now I am finally in bed getting ready to watch True Blood...one of the few shows the hubby and I both love.
This week will be insane at work...too much to go into, but I have a lot of time consuming ridiculousness to deal with.
I missed all my sparkies while I was off the grid...
Oh and I weighed on Saturday, down another 1.5 pounds for the week...Going a little slower now, but I am back in the 140's so I know it won't be coming off as quickly now.
Couple pics of the hubby and I at the beach below...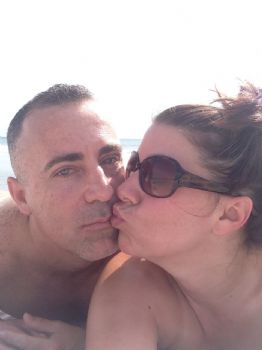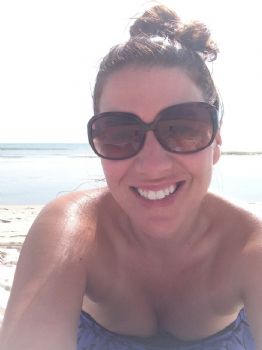 Have a GREAT night everyone!
~ Christy