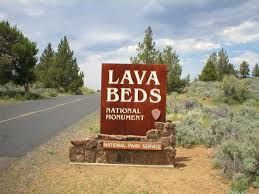 In May I went to the Lava Beds in Northern California. It was for a 3 day geology field trip.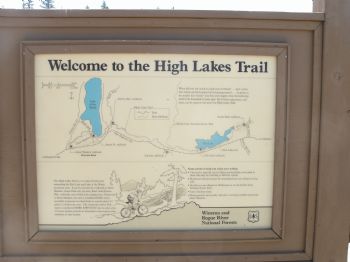 It was an extremely long bus ride and this area was our lunch break down. We had another couple of hours to get to the park.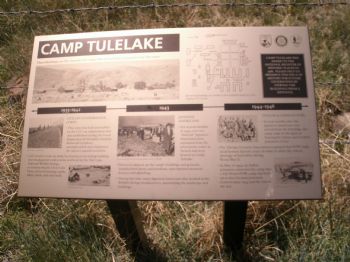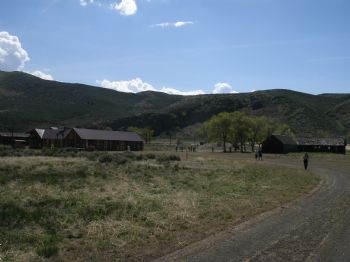 Camp Tulelake was the last stop before we got to the park. This was a camp for when the U.S. was separating Chinese from the rest of the population. This was more of a stop for the history class that came along with us.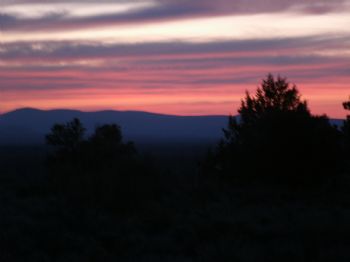 The sunrise that next morning was wonderful. I woke up before most other people. My body is set to wake up at 6am so I woke up then. It was lovely and the few birds that were around were making lovely sounds.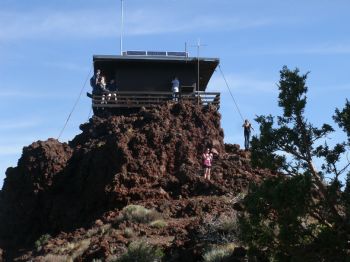 Was a nice long trail to be able to get to the top of the hill, where the watch tower was.
Do you see that white bump in the background? It's a mountain top that can be seen almost anywhere in the desert. Basically if you got lost use it as a beckon to get back.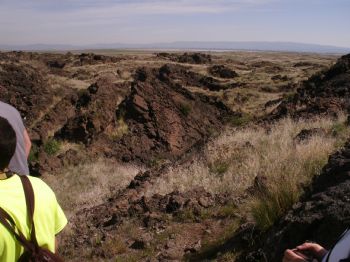 The terrain can be very weird because of the ancient lava flow. Dessert animals have found ways to use this to there advantage. Such as the rattle snake that was hiding on a rock next to the trail. He gave a small warning but didn't want to leave the shade. I grew up in Texas. I knew how to handle myself, but the people behind me stop to stare and grab pictures. I almost wanted to scream, but that would of caused more problems. No one got bitten, but they were scolded by the teacher later.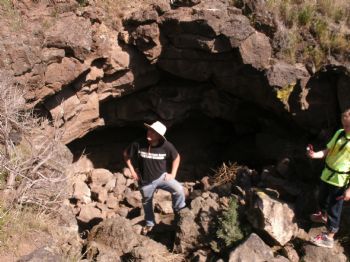 Here we are waiting for those stragglers to catch up. I wouldn't dare go down in the hole. This is only a hole not a cave. However it looks like a perfect place for a snake to take a nap.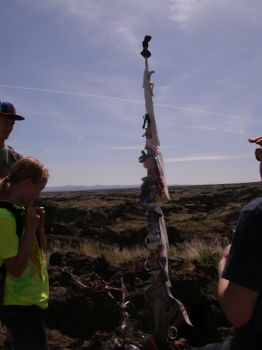 Further up the trail was the prayer pole. This has been going on for a long time. It has significant with the local American Indian tribe. Basically you walk out there and leave something behind. Not sure what the rest of it is with there beliefs but the items we saw were interesting. Including shoes. Yap someone came out there with shoes and there buddy. Both people walked back with out there shoes. I have to say yikes! Wouldn't want to walk out of the desert with no shoes. I left one of my feather attachments I had on my walking sticks.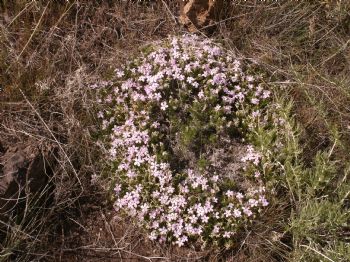 I was surprised that these flowers are all over the place. Where ever they were growing they always made a ring. Just weird.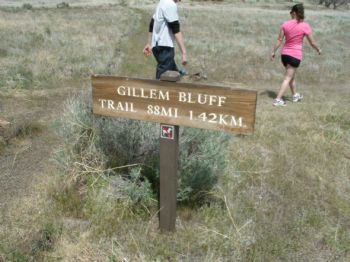 After this trail we went to the reenactment camp. It was interesting and once again was all about history for the history class.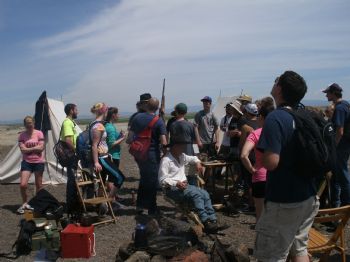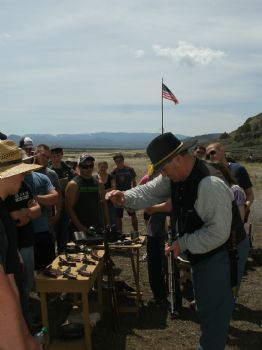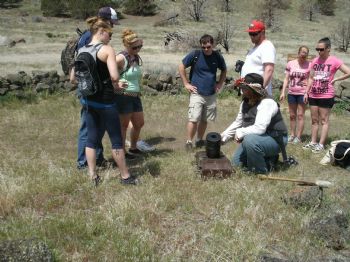 The Doctor really knew his stuff. He was more than eager to tell you what they were doing and how medicine slowly became better. Including teaching the old doctors to clean everything. To make sure the utensils were sterile before going to the next patient.
Golden Dome cave was our next adventure. You'll see why it's called that in the next picture.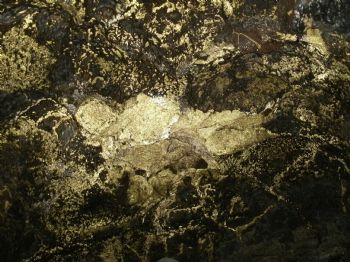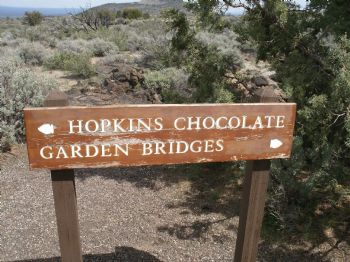 Hey I had some Chocolate, but it's OK I lost some weight and we lost our way.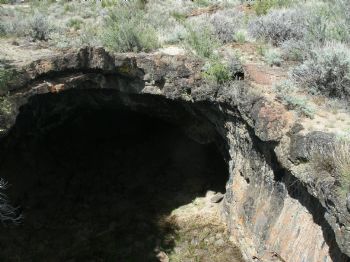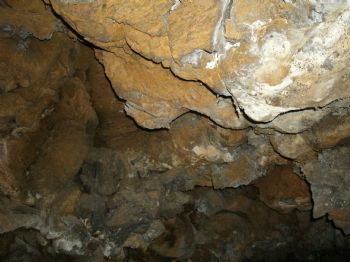 We couldn't figure out were the instructor went or how to get out so we had to start crawling around and I got tons of bumps on my head. LOL
We managed to find our way out eventually, but still no teacher. So we decided to go to the next cave. Guess what we found in there. No it wasn't the teacher. We found the bus driver. From that point on I just stuck with him. His my ride so long as I know where he is there is 100% chance of being able to get home. LOL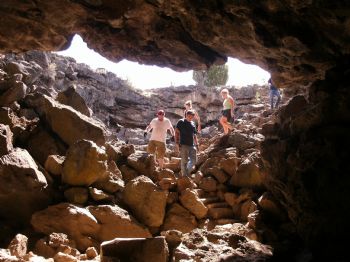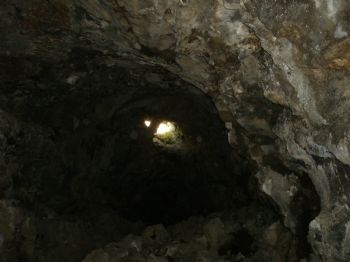 One thing to not about the caves at the Lava Beds. There really Lava Tubes. They just don't have fresh lava flowing through them. LOL Which also means you can go in one way and come out another.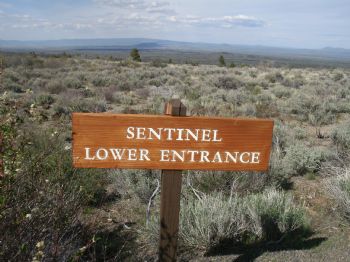 That night we had a nice big camp fire and stories. I also winded up coming down with a cold and didn't get much sleep. Which hinder my capability to go to the last two caves before we headed home for the day.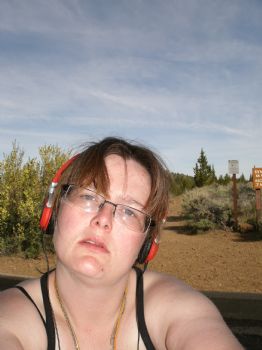 I was a regular hot mess. While everyone else went down I stayed with the bus and tried to make my stomach pains go away. There was 2 stops along the way that I was able to particapt in.
That's right petroglyphs. Pretty interesting to see. Even more interesting was the fact that there use to be a lake were we were standing, and the native indians would canoe out to make this carvings/paintings.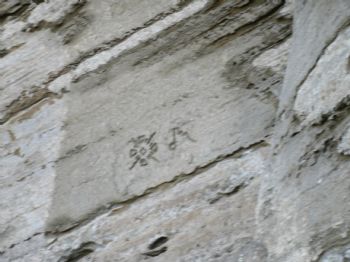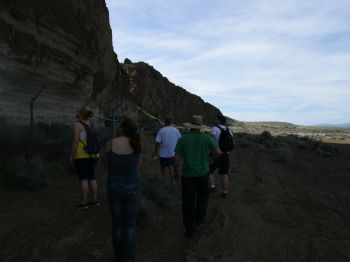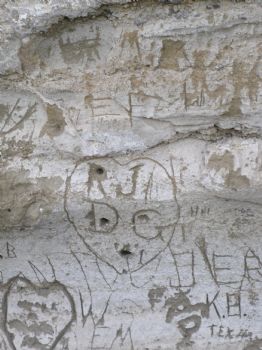 There was a fence around the place because of people doing this. The ancient carving or now fenced, but some or in this mess of people leaving there tags.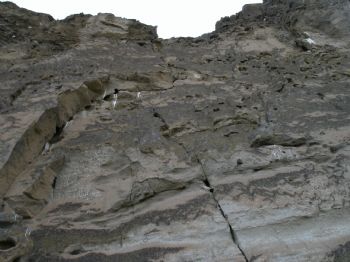 Guess what lives up there. Birds. Small to huge. Raptors, Ravens, Owls, and lots of little birds. The use the natural holes in the rock for there home. We actually saw a huge Raven on the very top of a tree at camp. His wing span was huge.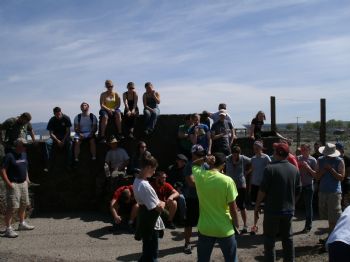 Back to the incarceration camps. This stop was the last one, and is the annual group picture spot. So everyone had to find a spot and say cheese. LOL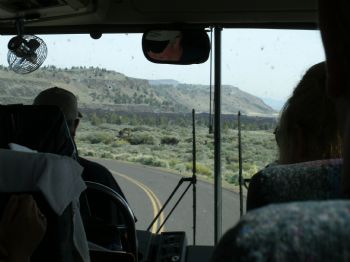 On the road again. Just can't wait....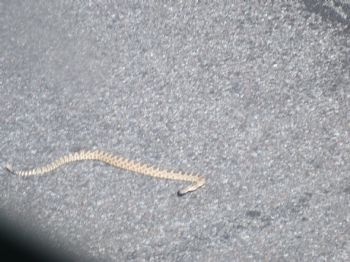 AHHH Snake!! We had to make sure not to run the rattler over. Which I find weird, but it is a national park so whatever. If we would of been in Texas we would of just ran over the sucker. LOL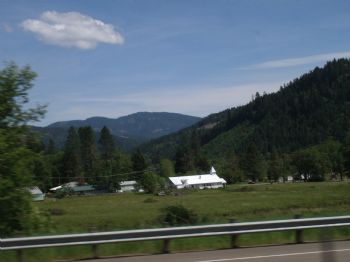 I also adopted a bat while I was there. There such cool little guys and eat so many bugs that I just had to spend my last bit of spending money to help them out. All in all it was fun, minus three factors.
My friend had died the previous weekend.
It was mother day, which means heart ache for me. I have a horrible person for a biological mother. We no longer talk after she burnt her last bridge with me. I really tried and gave her three chances, but every time we got to a point were I thought we were doing better and could talk about the underline problem in our relationship she would do the same stuff again. Plus it's a sore reminder that I wasn't able to carry my child to full term.
And I was SICK! Staying up almost all night in the bathroom was not fun, but at least it was on the last day I had to deal with it.
Here is the parks home page in case you want to go as well. It was tons of fun and we didn't even get to everything they have to offer. Heck I only got 10 minutes at the gift/information center.
www.nps.gov/labe/index.h
tm