I have spent much of this week waiting out the rain. Every day it has stormed. Thursday it rained so hard and so fast (3 inches in an hour) that water came up through our crawl space in the basement, and there was a stream next to our house joining a river along the street which fed into a lake at the bottom of our street! Airin waded in the water and got the bottom of his shorts wet!
We haven't had to water our plants though, which has been nice.
Right now I'm waiting for the rain to finally stop. I'm supposed to run 2.75 miles, including some fartleks or hill sprints. Later today we're meeting my cousin in Ann Arbor to go to the natural history museum and then out to dinner.
Yesterday I realized that when I make a fist, I can feel my forearm muscles!
I've been wearing my body media fit this week to finally figure out my total daily energy expenditure (TDEE). Depending on which calculators I use, I get wildly different results: from 2100 to 3100 depending on which I use, and whether I strength train!
My BodyMedia Fit (BMF) told me on the days where I totally sat on my butt playing video games and not doing a damn thing that I burned 2300-2400 calories. On days I clean, cook, stuff like that, I burn around 2600 or 2700 calories. On days I strength train, I burn about that same amount (it may underestimate it, but only by 100-200 calories). I still haven't ran with it again, but I'm expecting to burn around 3000 on days that I do. So, my average TDEE is around 2600 calories/day. To lose 1lb/fat per week, I need to cut my calories by 500, putting me at 2100 calories.
Now, when I was eating around 1900-2100 calories/day, I did not lose weight. Well, hopefully I gained muscle and lost fat and that's why. But I didn't get any smaller either, and I've been eating, on average, around 500 below my TDEE I would guess.
I'm also noticing that when I aimed for 1800-2200/day, I had no problem eating around 2000/day on average. But now that I'm aiming for 1600-2000/day (restricting more) I'm having trouble staying at or below 2000 - the last few days, I've been eating around 2300/day (get-togethers, banana splits, Bob Evans, etc).
And I've noticed that the day after I eat a lot (including carbs and fat) I can lift a lot more at the gym. And if I lift more, that means I get stronger. And if I get stronger, that means I have more density and muscle mass, and burn more fat.
In theory.
I have pics and measurements coming up this Thursday. I don't expect too much change visually. But I have increased lots of weights in the gym, so I am getting stronger.
This week we're celebrating Avery's fourth birthday! We'll have something small on Tuesday just with us, and then Airin's parents and Halen are coming up on Thursday, and then on Saturday we're celebrating with my Mom. It's going to be a big cake week!
About a week old:
About 10 months old: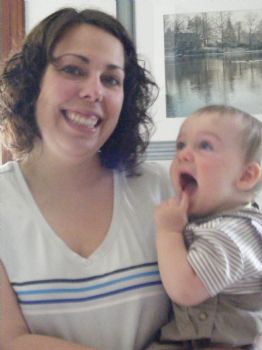 First birthday:
About a year and a half: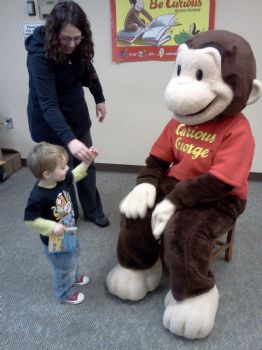 About two years old:
About two and a half: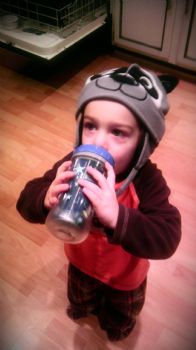 I can't believe how big he has gotten, and so fast... FOUR YEARS OLD!?!?
My little bambino is so big.
Also, it's been 4 years and I still haven't gotten rid of the pregnancy weight.