Saturday, June 29, 2013
I used to dread clothing... it was a nightmare to have to dress or go anywhere as a size 28! I had one pair of pants and one shirt I would wear (maternity, even though I wasn't pregnant). But now I love having options! Even though I don't typically do anything, I actually did have an occasion to wear one of my cute little sun dresses on Friday. Victoria's Secret size Extra Small :-) We went and saw The Heat with new friends.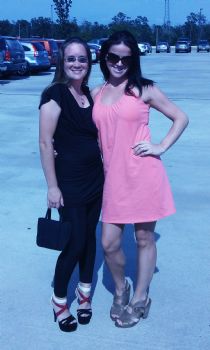 And I remember feeling like a TENT in my XXL scrubs!!! Here's a pic of me (with my daughters) when I got home from work tonight in my size Extra Small Scrubs that I bought yesterday. I actually fit quite well in the XXS ones but I thought I'd give myself some extra room for PMS days when I'm just a bit bloated.