It always seems like I'm taking a risk ordering things online since I don't have the chance to try it on. On top of the fact that I'm flubby in weird places due to weight loss and I can be a rather non-standard fit. I was delightfully surprised when I tried on my wetsuit that just came in and it fit perfect and feels good.
Now I have all of my essential triathlon gear...
Wow, even a blind squirrel finds a nut once in a while...

Anyway, it feels good that my gear isn't tight or overly embarrassing. Even my 2XU trisuit isn't too bad. Last year it looked like I was stuffing 10 lbs of Jello into a 5 lb bag, now its only about 8.5...
lol...
Anyway here it is.... the grand unveiling....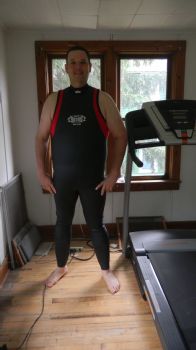 So you can see the brand name of the suit... this one is really great! :)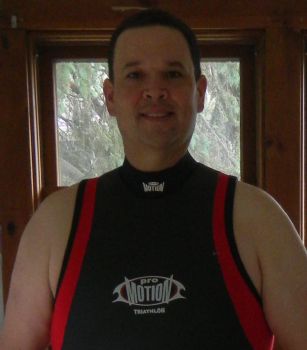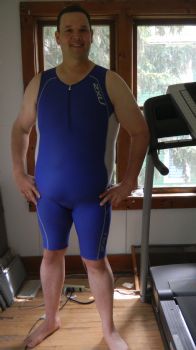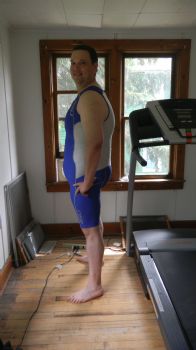 GRRRR It's Gonna Be EPIC!!!
The blue tri-suit is my "base layer". The wetsuit goes on on top of it for the swim, then when I transition to the bike, the wetsuit comes off and I go out on with my tri-suit then continue on into the run. I will, however, probably wear a long sleeve, thin white tech shirt over my tri-suit while on the run so I dont get roasted. Yes there is sunblock but too much exposure and I get really sick so I need to be careful. I will be out there between the swim, bike, and run for about 8.5 hrs maybe a tad less of I have a good tail wind.
For those just tuning in, the triathlon I am doing is 70.3 miles broken down to 1.2 mile swim, 56 miles on the bike, 13.1 miles on the run.
As I look at these photos, I need to remind myself that this is a LONG way from 385 pounds. Through participating in races, I have learned to shed a certain amount of my self consciousness. I have never felt judged or criticized while I have been out on the course and if anything, I get high fives from the more seasoned athletes. At the finish line, at what ever the distance, everyone knows what it took to get there. There is often a sense of mutual respect because of what we all had to overcome to get there.
Ultimately, it isn't about how you look externally. It's all about how much heart you bring to the course and people recognize that.
When you give it your best and leave it all out there. When you have fought the good fight, you earn the most important respect of all... your own.