Last night I told you how She(WMBO) wanted me to pick her up at Reagan National Airport. It is not convenient but I would comply.
Debbyfrommt, who live in Montana told me she felt so sorry for me -- NOT. Her choice of airports were either 100 miles one way of 130 miles the other. But consider that at 65 mph one could reach the closer one in a mere 90 minutes.
Today I left for Reagan at 3:00. It's only 40 miles away. I arrived at the airport at 4:45. One hour and 45 minutes. It was thunderstormy. And it was rush hour. That is a multiplicative function.
Fortunately, She(WMBO) was delayed by the same storm. They almost landed at Dulles to refuel, but got into Reagan. Unfortunately, I was still on the road, sitting still, looking at the top of this when she called: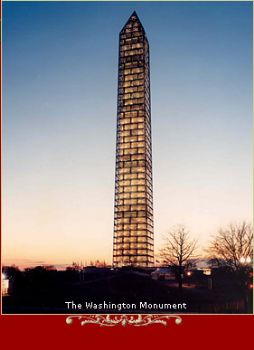 Lest anyone is deluded to think that I took that picture: I was sitting in traffic and it was raining down like a cow pissing on a flat rock. I stole this picture.
It was only 13 years ago they had done a job on the Washington Monument and it was clad in scaffolding. Two years ago we had a minor earthquake nearby, a 5.6 about 100 miles from DC and it damaged the monument. They are just now fixing it. No one has been allowed in in two years.
Back to the airport: She suggested I just do a driveby to pick her up. But 105 minutes on the road? No! I needed a bathroom. While we were at the airport the sun was shining brightly. As soon as we left, it started all over again.
Total drove time for the 80 - 90 mile round trip was 3 hours 45 minutes.
So it turns out that Reagan and Dulles are farther from me than Billings or Helena are from Debbyfrommt.