6/22 to 6/28 I am off a few days from the rest of the team but hiking along to see if I can do this challenge always up for a challenge with my teammates.
1.No second helpings. None. Zero. Zilch check
This is not a hard one for me donít dish up food in severing dishes and most of the time make just enough for one
2. No desserts. Never, ever, ever. No matter who is having a birthday or brought something yummy to the office
This is the one I am struggled with before joining but after reading challenge 4 decided to join the challenge week one was hard and I messed up with the desserts but they were Sparky desserts .
In week 2 am finding I still find my self-craving something desert like after dinner decided that
Yogurt or fruit is sweet and not really a dessert and see how that goes. But as rule 4 says just fess up and move on. Like one of my favorite quotes saysíí Donít beat your self up when you slip pick your self up dust off and go again.íí
3. No exceptions. Food that no one see you eat still counts. Food on a great exercise day still counts. Food that Mom makes and will be upset if you do not eat still counts. I did eat my planned meals and snacks Anything I eat is not seen since its just Racey and me ( Racey is my fur friend) so I need to write what goes in my mouth planned or not this week it was 4 good days and 3 bad days
so goal is 5 good days and work from their know i am not perfect and slips happen.
4. No lying about it. Fess up when you fall off the wagon. No cheating. When you are out, you are out.
four days on the wagon three days the wheels came off the wagon
Looking forward to a new week I know I am not perfect but my aim for this week is six good days.
Here is to a good week for everyone as we hike the trail to a healthy life style.
a

i was able to keep my sodium at the high end of the range. I made it seven days staying in the 2300 range not supper I know but now know i can stay in range i am going to work on getting it heading down ward even more. My goal to reach the middle range by the end of July.
The News is stressing the importance of getting plenty of water in with the weather being so warm so i decided to challenge my self to see if I can get 8 plus glasses of water in throughout the summer.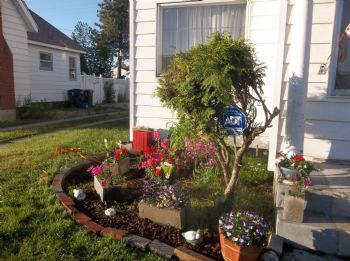 My garden is enjoying the sun shine. how about yours?

Chris we made it to day 138