We have all been in low places. Hopefully most of us haven't truly reached rock bottom before, but many of us have been there, too. I am lucky; I did not reach rock bottom this time, but came dangerously close. Fortunately, I had developed coping mechanisms that were strong enough to get me through even the toughest moments, even when my forebrain was wondering how much more I could take. I have been Depressed as Hell Erin for the past few months. Perhaps I had a right to feel that way, but it was not an excuse to head down a path of destruction. I make no excuses. Yes, my dad died. Yes, his wife created a lot of drama for me and my brother. Yes, I had a job that almost drove me over the edge even before my dad died, and almost did me in after he died. All of these stressors were feeding into each other and my mind was stuck in disaster mode. But there is no truly valid excuse to go into self-destruct mode.
I had moments when I wondered when I could stand another moment, but that was mostly because of my stupid job. Well, that job is officially in the past. I have been working for a couple of years to set myself up to be able to leave my job in poison control and my career as a veterinary technician. After 12 years as a veterinary technician, there was nowhere to grow and my job of over 5 years was certainly not fostering any growth. Actually, my job kept getting worse and worse, and I believe I got out just in the nick of time. I am returning to school in the fall to complete my massage therapy and personal trainer training, and I was going to try to tolerate my job until I was done. The recent stress eating, drinking alcohol to get drunk (something I had previously done VERY rarely), and being too exhausted to do anything I loved made it clear that the job had fried me too much and that I would not be able to handle another year and a half. I needed out...NOW.
I had worked at a garden center in my early 20s and really liked it. I enjoyed being outside, having different duties, moving around, playing with plants, and helping people plan their gardens. I was in great shape from the walking around and lifting heavy things. Well, that garden center went out of business and for some reason I just never thought to try to find another job like that. Of course I still love to garden and have thought on and off about finding a job related to gardening again. Just by chance, I looked at the Facebook page of the garden center a few blocks from my house, where I have been shopping for the past 8 years and have thought about applying for part-time seasonal work, and they posted a full-time position. I called them and the owner was interested, so I went in and talked to them. I had that "feeling" you get when you know you've gotten a new job, but I tried not to get my hopes up. They called me a couple of days later and offered me the job. I start next week and am very excited to start this new chapter. They know I will be in school, and I think that doing massage and personal training will work well with this job. I was ecstatic to send my letter of resignation to my vet tech job; I had been dreaming of it since the company started to tank a couple of years ago. I have felt immensely better since quitting; that job was actually damaging my mental health.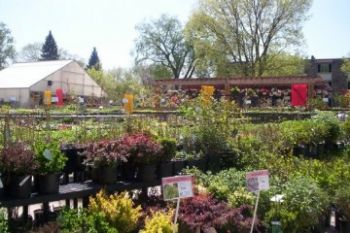 My new cubicle.

And then there is Jiu Jitsu. Jiu Jitsu has been my life blood and my life has felt totally out of balance without having the passion for it. I can't express how badly I have been wanting to WANT to be really into Jiu Jitsu again, and not just show up sometimes and half-ass my workout. My Jiu Jitsu teacher Marcelo has the patience of a saint. He knows I can do better and has gently been coaxing the champion within. I think he knows that if he had pushed me too hard that I would not come to class at all. But I think he sees a change, too. He knows he can push me more and get me to compete again. He sees the gold medal winner returning.
It was not that long ago that I stood on a podium accepting a gold medal for winning a tournament. As long ago as November feels, it is not that far in the past.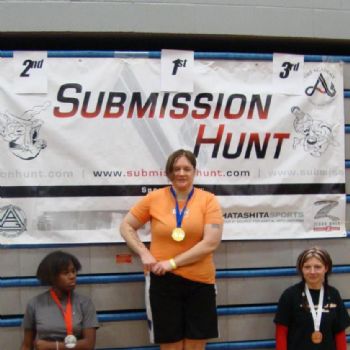 Well, Gold Medal Erin woke up from her slumber. She was not happy. We had a little talk:
Gold Medal Erin: AHEM.
Depressed as Hell Erin, turning around looking surprised: Oh...hey! Uhh, I kinda thought you might not be coming back. Errr...wassup?
Gold Medal Erin: Wassup? WASSUP? I'll tell you wassup...what the hell did you do to me?
Depressed as Hell Erin: Well...I've kinda been eating some junk food.
Gold Medal Erin: *stares*
Depressed as Hell Erin: Okay, A LOT of junk.
Gold Medal Erin: *stares*
Depressed as Hell Erin: And...maybe drinking soda. And alcohol.
Gold Medal Erin: *stares harder, eyes widening*
Depressed as Hell Erin: A lot of alcohol.
Gold Medal Erin: *shakes head* Well, have you at least been doing a lot of Jiu Jitsu? And working out?
Depressed as Hell Erin, looking sheepishly at ground: Uh, well...I've been going maybe once every week...or two...but I guess I've been just, ya know (barely audible) sitting around.
Gold Medal Erin: Excuse me?
Depressed as Hell Erin: I said, I've just been sitting around.
Gold Medal Erin, throwing hands up: Well, just look at me! (Grabs flab and shakes it) What, did you put on like 10 pounds?
Depressed as Hell Erin: Like...about 15...or so.
Gold Medal Erin, slapping hand to forehead: Okay. This isn't the end of the world. (Puts arm around Depressed as Hell Erin's shoulder) It's fine.
Depressed as Hell Erin: Sorry, I didn't want to get so off track, I just got lost...
Gold Medal Erin: It's okay, you were doing your best. But we're getting back to work. Right now.
Depressed as Hell Erin: Good. I'm tired of not kicking ass!
I think back what it was like 6 months ago, when my life revolved around my Jiu Jitsu training. I was in sheer beast mode. Almost every decision, including my food, was based on whether it would help or hurt my training. I would not say I had a pathological obsession, but I was very focused on my training, while balancing it with the other priorities in my life such as friends, writing, and relaxing. I had reached an almost perfect balance and had a good rhythm in my life when everything came crashing down in February. I tried so hard to do my best. I'm not bashing myself, but my best sucked. I would sabotage myself the second I took a step forward. I was frustrated with that process, but I tried to engage in my saving graces of writing and Jiu Jitsu whenever possible. If nothing else, Marcelo is one of those people who just makes you feel better by being in their presence, so going to the gym was good even if I was barely trying at Jiu Jitsu. He has the kind of energy that inspires you to truly be your best, so I tried to go to Jiu Jitsu even when I desperately did not want to. I knew with his help and his perfect balance of challenging me without pushing too hard would get me back to beast mode. Sure enough, I am back to training regularly and am growing in my training again. And most importantly, I am having fun again.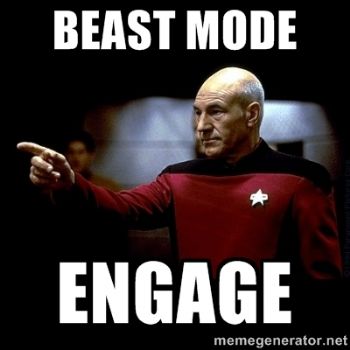 This is not Marcelo. But who can argue with Picard?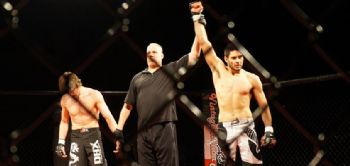 This is Marcelo in beast mode himself (guy with his hand up), after winning his last fight.
My eating has been on and off (mostly "off") over the past few months. I just did not give a crap what I putting in my mouth. I wasn't tracking. I finally started forcing myself to track again, even if I was overeating, and that helped a lot to steer me towards better eating. It's funny how even when we're overeating, the conscientiousness that goes into tracking can squash a major binge in its tracks before it gets really out of control.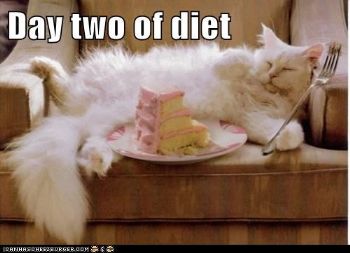 I am so happy to be back to eating more healthfully. No wonder I've felt like crap, I haven't been fueling myself properly at all. I feel lighter just from eating better again and healthy eating feels natural for the first time in many months. I remember now how truly beautiful healthy cooking can be. Here is a picture of my dinner tonight that I cooked for a friend (and she helped make):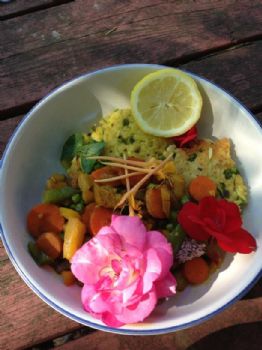 Jasmine rice cakes with peas, lemon, mint, and basil; tofu stir-fry; and edible flowers from my garden.
The past 5 months have been nearly constant stress of one sort or another; I was just trying to get through every day and felt like I was salvaging my life. But because I was already a changed person, deep down I knew it would get better if I just kept picking away and did my best. Hope stirred in the depths of the darkness. Deep in my soul, Gold Medal Erin kept telling me to never ever ever give up. So beast mode got turned off for a few months. The beast is alive again and wants to come out and play. I am ready to be HERE. I am ready to LIVE my life again, and better than ever. A new chapter begins now.
Beast mode: ON.