I have to say I haven't done too badly with getting some exercise on this vacation. I'm pretty proud of myself, actually. Usually vacation is when I fall off the workout wagon because my schedule is out of whack & working out is less convenient.
But this time I've actually gone out of my way to get some workouts in.
1. For the nights that we've spent in hotels, I've booked hotels that have a fitness room, and I'VE ACTUALLY MADE USE OF IT!!! Not everyday, but several days.
2. For the time that we've spent staying with my mother-in-law, I've found other alternatives. Since her house doesn't have room for me to work out in front of the TV, I contacted the local Community Center and arranged a temporary membership - $20 for the 2 weeks we're here. Before I got that arranged, I went to the local high school and walked around the property for 35 minutes.
3. Tonight I attended a Piloxing class with a friend here in the town where we're visiting. This was going out on a limb for me, because I really, really don't like to do cardio classes. I usually can't keep up, and feel like I look like a fool. But I didn't do too badly, I'm sure it wasn't pretty but I completed the entire routine, 45 minutes of fast-paced, heavy-duty constant motion! I don't know that I'll do it regularly, but it was kind of fun, and nice to discover that I could actually do most of it with some degree of success!
So I'm going to give myself a pat on the back for finding ways to work in exercise even while on vacation! Good, job, Paula!! ;)
~~~~~~~~~~~~~~~~~~~~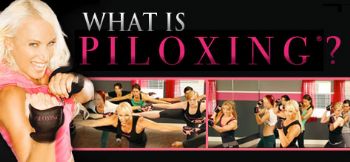 Piloxing is a mix of Pilates & Kick Boxing, and seems to have become quite the rage lately. For more information on piloxing see the following links:
piloxing.com/
www.youtube.com/user/Pil
oxing