Wednesday, June 26, 2013
Sharing a little slice of hOOp class with y'all. Yesterday was our last class for the summer. We're going to attempt some Friday morning hoop jams in a park, but this was the last organized class 'til fall. So we decided to attempt a Group Step Through. It was fun. The rest of the class was freestyle; Leslie gave us a break from pushups and crunches for one night. It felt good to be back, after a couple of months of having to take it super easy. I was still careful, though!
Hope you're doing something that makes you smile today (and if it makes somebody else smile too, that's even better). Spark on, Brave Sparkers!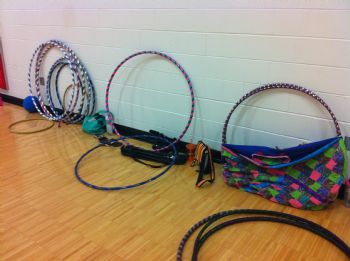 What the gym wall looks like during hOOp class. :)