Wednesday, June 26, 2013
The news has me happy this morning. I've been with my partner for 18 years and so this ruling effects me personally. Yea! So years from now when people ask me what I was doing when I heard this historic news, I can say I was inputting my breakfast onto the Sparkpeople tracker.
Happy Dance, Happy Dance
Anyway, back to the task at hand. I'm having a good week and expect a good result on Friday when I step on the scale. I'm making a vegetable soup for dinner and snacks today. Here is a photo of the Pineapple Rice & Vegetable Salad I made yesterday. Tasted pretty healthy if you know what I mean.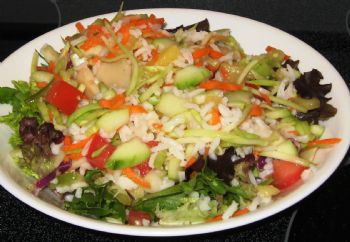 I've done my 11 minute chair exercise for the past four days and my arm pits are a little sore today. Weird huh? Whenever I have weird aches and pains I put it on my calendar with the idea that if whatever doesn't go away on its own within a week or two I'll visit a doctor. The pain is minor and I'm not experiencing any other effects, good or bad, from the exercise so far.
So that's my daily check in. I'll be back tomorrow.
Letha