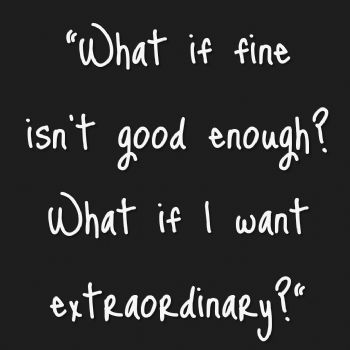 Did you come to Spark to become fine or did you come to Spark to be extraordinary? I will give you a minute to think about...oh, so sorry! Time is up!
Of course you came here to be extraordinary!
Isn't that what we all should have? Isn't that what we all deserve? Isn't that what we all want? We didn't come here to be average or fine (not that kind of fine!) but rather, we came here to be extraordinary!
Why should we want for, hope for, or have just fine? You don't want fine! I don't want fine! WE don't want fine!
The line, "What if fine isn't good enough? What if I want extraordinary?" was said by Will Smith to Eva Mendes near the end of the movie "Hitch". It is a line I have always loved that I think of when dealing with my own relationship (or lack of at the moment) things. I was thinking about it earlier and realized that it really does correlate with what we are doing on our journey's here on Spark.
Being on this journey has helped me realize that I want extraordinary in more areas of my life, and not just in a relationship. Yes, I want that too, someday, but why not strive for that in the other areas of life as well? Why not go for extraordinary in every aspect of life from jobs to weight loss? Why not?
I say we do! I say WE ALL strive for extraordinary today, tomorrow, and every day from now on!
Go get in front of your mirror and take a good look at yourself. Then I want you to ask yourself, "What is extraordinary in my life?" Do you know what your answer is?
The answer is...YOU!
You are extraordinary! You are here on Spark, trying to make major changes for the better in your life! You are extraordinary, on here looking for more extraordinary!
This is your life and his is your journey! Make of it what you would like, but for me, I am aiming for extraordinary! Not just on the scale but everything that comes with living a healthier, more active lifestyle!
Who knew that the movie "Hitch" was such a deep thought kind of movie? It also has one of my favorite quotes of all-time at the beginning of the movie...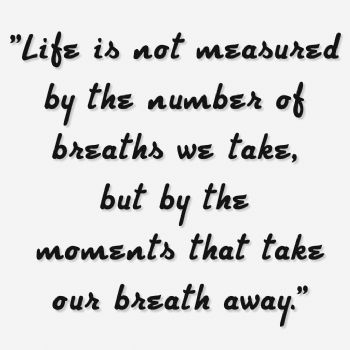 Words to live by. Words to strive for. Words that we can learn something from as we move onward in our journey. We deserve the extraordinary moments in our lives that take our breath away! That is the good stuff in life that we are working to have more of for as long as we can!
Live your extraordinary!
Embrace Your Possibilities!
Good Day Sparkville