Tuesday, June 25, 2013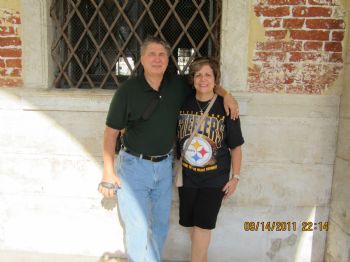 This is a picture of my husband and me in Venice. We have been there twice. I am anxiously waiting my vacation in two weeks that will include stops in London, Copenhagen, Oslo, Stockholm, St. Petersburg, Tallin and Gothenberg. This is giving me the motivation to lose weight. My goal is to be ten pounds lighter by July 12. I have already lost 7.

I hope I can get these last three off by July 12. I have been exercising and watching my food intake. My problem is that we go out to eat so much. I have checked the calorie counts in all restaurants and have really tried to limit my intake. I hope to have lost a little tomorrow at weigh in but I think I have stayed the same.

Wish me luck!