Epic Failure ... I keep hearing this every place I go. Last night, I read a post on Facebook. "Watching This Awesome Storm And Then I Remember.......Sunroof and Windows Are Still Open! Epic Fail!"
Really? THAT was an epic fail? I decided to see where my disconnect with the phrase "epic fail" is, so I Googled the phrase.
What is an epic fail?
An epic fail is a mistake of such monumental proportions that it requires its own term in order to successfully point out the unfathomable shortcomings of an individual or group.
Another search gave me this response:
An Epic Failure is when something just doesn't work out and it's the worst thing ever in the world.
WOW! The worst thing ever in the world. Well, I doubt seriously that leaving the sunroof and the windows open during a rain storm really counts as an "epic fail". Annoying, yes, but epic fail, hardly.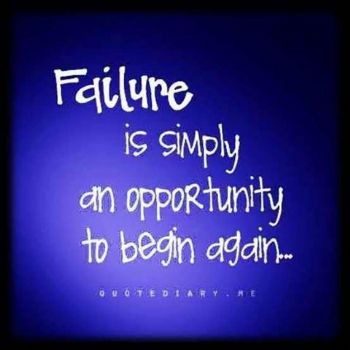 But, I think many of us see our diet failures as epic. The end of the world. The worst thing that has happened to us. Something we may hardly be able to recover from.
I recall teaching a class and asking if my members were to fall down the first few steps, would they pick themselves up and throw themselves down the remainder of the stairs. They all, to a person, shouted, "NO!!" They looked at me as if I'd lost the last of my senses! But when I compared my question with, "Well, if you mess up your food at lunch and eat to much, will you immediately get back on track, or will you toss out the day and just eat whatever comes to mind until bedtime, then start over tomorrow?" Same thing! You failed in both instances. Fell down a few steps, went over by some calories. Should you throw yourself the rest of the way down the steps, eat to many calories the rest of the day? Failure, wherever it comes in the day, is an opportunity to begin again. And seriously, it really isn't epic. It's not the worst thing in the world.
Think about this ...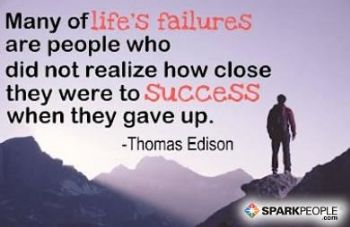 Big or little, stop the failure as soon as it happens and get back on track. You're closer to a win if you start over right away!