Monday, June 24, 2013
Today I had to do one of the most dreaded tasks for a woman of my size: clothes shopping. I have a very important interview scheduled tomorrow morning at a local university, and realized today that my most professional attire is a tad bit tight. So, rather than feeling uncomfortable and self-conscious of the hugging material, I braved the stores in search of a suitable dress in the proper size.
I spent, literally, four and a half hours going from store to store this afternoon. I do believe that a woman my size has a different business-style fashion than the averaged size female because nothing seemed quite right. It's not as if I can interview in a muumuu after all. Slacks are always an option, yet they somehow always seem to make my thighs appear much wider.
My low point of the trip was going into the local store for name brand clothing at discount prices. It appears that I am one size too big to shop there. Our town, however, does have two plus size stores. Problem is, they are expensive stores that lack the sale and clearance racks that this broke college girl requires.
When I get this job, which I refuse to believe I won't, I will need quite a few more professional pieces on my miniscule budget. But not until the fall. Which means I have the summer, two months, to drop at least one dress size.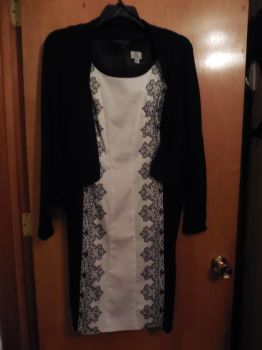 Black and White is always the way to go