Monday, June 24, 2013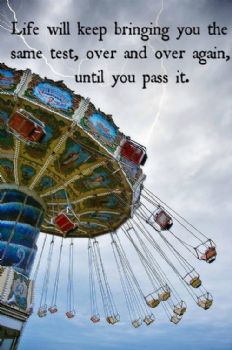 One of my biggest battles in life has been fighting excess weight and the teasing that resulted from said problem.
Of course the most difficult to deal with was the teasing from family members who created this "monster". The feelings resulting from the teasing and then being taught to eat for comfort were a never ending cycle. I have spent the majority of my life feeling like lesser of a person for having excess weight.
At this point in time, I feel pretty good about where I am at, although I have 41.8 out of the 153 I set out to lose on the current journey. I can fit in a size twelve dress and it took me 5 years since my last large weight loss to attain that for the first time in my adult life. Because I am on the last leg of the weight loss, I am feeling pretty confident. To lose 111 lbs for the 2nd time since 2005 is a huge feat.
I have the knowledge to be healthy, I have the willpower to attain any goal and when I set my mind to a goal, I fly!
The last part of this current weight loss has proved to be quite difficult. I have spent 9 months with little breaks between courses and had a tough time sticking to plan during my studies.
I have tried mightily to keep straight but I have struggled and I am trying to gather the strength to complete the weight loss.
My recent struggle with self-control is bringing the strength to conquer my issues and this lifelong battle. I will never stop trying and that is what makes the difference.
I have a dream of having a family so my journey to health will include pregnancies and losing weight after. I am currently trying for my first baby so whatever comes first, the goal of a healthy BMI or a baby is fine with me.
We have a lifetime and big events that require change. I am in this for life and I will fight to attain my health and have a family to grow old with.