I'm currently on a 5-week fitness plan to tone up and lose a couple more pounds before a wedding we have coming up in July. Basically, I'm taking barre classes 2x a week, PT 1x a week, and supplementing with Jillian dvds and light cardio (even walking) for the rest of days. I'm trying to stay within calories/ macros for at LEAST the weekdays.
Last week sums: 4/7 perfect calorie days; some sort of exercise 6/7 days, 2 of those days were only walking for exercise. Good, but not great. The weekend, as usual, was when I had a hard time staying on track. We went out to dinner on Friday night, and even though we walked there, my meal was not so healthy even though I only ordered a veggie side and an appetizer. Saturday it was gorgeous out so we went up Annapolis and had dinner, then fudge and ice cream on the board walk after dinner. Yup. fudge and ice cream. womp womp. We were in total vacation mode, even though we weren't really on vacation. Sunday, I just let laziness take over and overate things I know I shouldn't have, including leftover fudge.
Clearly, I can do better. However, my back has also flared up again and it's pissing me off. Last week, it only hurt at night trying to sleep (real convenient, let me tell you, NOT) but I didn't work out yesterday because it was really bothering me. I've been trying to stretch it constantly and obviously, rest it but I really want to keep up with my workouts and go to barre tonight. Right now it's not feeling to great but it's not as bad as yesterday/last night so I'm on the fence. I asked my doctor about it on Friday and she wanted to jump to an X-ray and I'm like I don't think that's necessary (just seemed like something to get more money from more tests and medical bills) so I'll have my PT look at it again tomorrow. My doc did prescribe me a muscle relaxant to help it especially at night so I can sleep, but I'm kind of against taking any extra medicine since I already have to take meds for a chronic condition.
From my last blog, about my cholesterol, it still really frustrates me but I've concluded it's pretty much out of my control, especially since I really am doing all the right things. Yes, I can cut back on cheese some more but I DO eat healthy. It could be related to my medicine, there is some evidence it can increase cholesterol. Other than that, my actual ratio, which some health care professionals use to measure cholesterol rather than total numbers, is within normal range. I'll be getting a second opinion on this soon enough too because my other specialist dr also ordered this test and I'll see if he's at all concerned.
So, plan for this week: listen to my body/back and rest if needed. Otherwise, stay on track with my planned workouts (especially since I already missed yesterdays) and stay within my calories/macros. I suppose if I REALLY made an effort I could stay on track through the weekend, but generally, we go out and do things where it just doesn't happen that way. So, I'm aiming to improve to 5/7 "perfect" days this week. Especially if I cannot workout bc of my back, it will be important I stay on track foodwise.
Oh, and here's a pic of one my latest jewelry pieces I made over the weekend: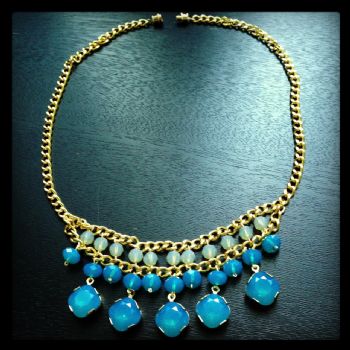 Let's do it!