Monday, June 24, 2013
Things are going slow but sure. I have 19 staples in my back that I hope will come out on Wednesday when I go to the doctor. Everything seems to be going ok except for a little trouble with blood pressure dropping to low. Guess that is common when on meds. So have to watch the dizzy spells. I have stopped taking the pain pills as of Sunday and now only doing Tylenol for pain. So hope that will help with the pressure. Tom is so good and doing laundry this morning. What would I do without him.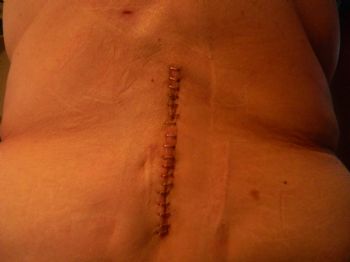 After Wednesday I should know when and what I can start doing. Walking will be so great. Hoping all are doing well in our weight fight. I will try to get on again after Wednesday to update. Take care and hugs.