From Tasmania 3700 kms (2300 mls) to the tropical north of Australia.
Part 4 of 6.
The World Heritage listed Great Barrier Reef (the world's largest reef system) is composed of over 2900 individual reef and stretches for over 2600 kms (1600 mls) and can actually be seen from outer space!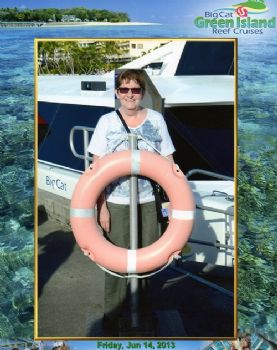 My trip to Green Island; such a small part of this spectacular place. I had no idea that I was visiting only one of over 900 islands. This place is huge as well as being hugely awesome... it's my blog, so I'm allowed a bit of narrative license, ya!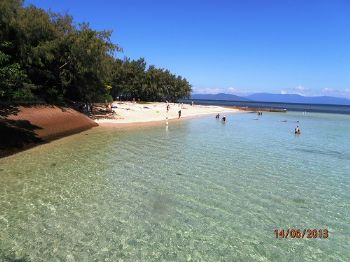 This is Green Island part view from the jetty as I was leaving the catamaran. It takes only 40 minutes to complete a walk around this island; crystal clear waters and pristine beaches. The only accommodation here costs $AU650 per night, but probably worth it.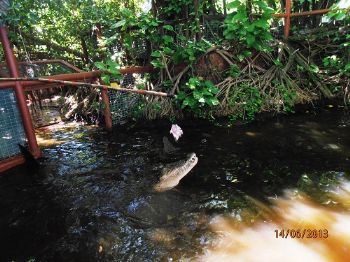 Marineland Melanesia with live crocodiles and tropical marine aquariums. The crocodile feeding was pretty specky.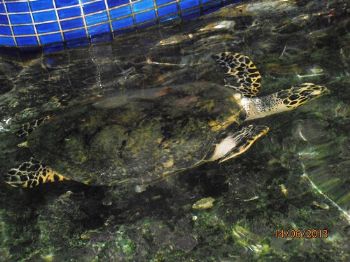 I fell in love with this beautiful and graceful sea turtle. He didn't move much when the crowd came to look, but I was alone with him and he decided to put on a display for me. He was wonderful to watch, but each time he came to the end of his swim run and had to turn, I really felt like I'd just love to free him ... like in 'Free Willy'.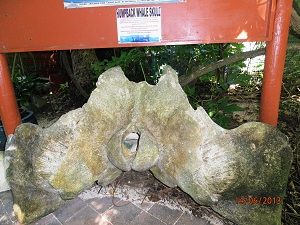 Among the excellent gallery collection of rare Melanesian artefacts and historical displays on Green Island, I found this Humpback whale skull.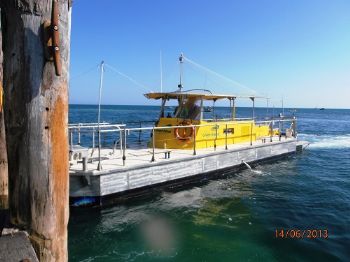 The semi-submarine was definitely a highlight of the entire vacation. It was totally awesome sitting underneath the water looking at the coral reef and marine life.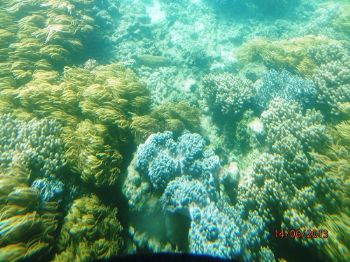 In the underwater world of the reef, in air-conditioned comfort of the semi submarine. A real treat viewing the coral of the Great Barrier Reef.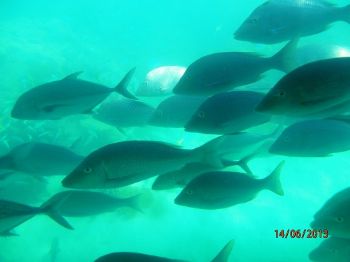 Amazing views of myriad tropical fish. The phenomenal and prolific sea life on the reef just has to be seen to be believed. I was so in awe of what I was viewing, it was hard to snap stills and videos because all I wanted to do was stare and 'take in' all this astonishingly beautiful underwater scenery and marine life.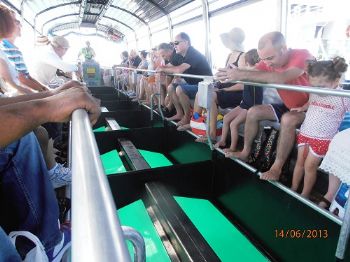 The glass bottom boat. Just sit down and look through the bottom to see the coral and the tropical fish.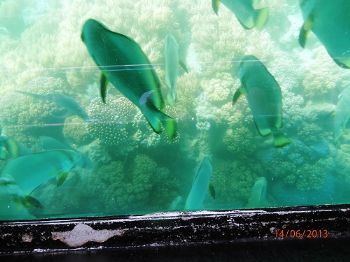 Coral gardens and sea life viewed from the glass bottom boat. All so beautiful. More than 1500 fish species live on the Great Barrier Reef.
The added fun of lively fish feeding from the side of the glass bottom boat.
I hope you have enjoyed Part 4 of my vacation in the tropics of Australia.
Part 5 will be another listed World Heritage area, the Daintree Rainforest.