Sunday, June 23, 2013
So, this weekend was great!
On Friday I went out with the hubby to dinner for a date night. I don't count calories on the weekends...I just do my best to be reasonable and enjoy myself. I had a small Ruby Tuesday salad, half a lobster tail, half a crab cake, and a couple shrimp. I stayed away from the sauces and butters and just ate the seafood dry, but it was still super delish.
Saturday morning we got up and ran some errands...then we loaded up the bikes and went down to this beautiful spot by the river to ride. It was really hot out so I only made it 10 1/2 miles, but it was a really good workout. My goal was 15 miles, in which case our midway point would have been this really cool brick oven grill/bakery. Next weekend I will give it another shot...maybe start a little earlier in the day and it won't be as blazing hot! This is a pic of me after the ride...
Anyway, Saturday night was my friend's birthday and she is really low key do she decided she wanted to just do a family game night and order out a bunch of pizza, wings, and cinnamon dessert thingies. Although it may seem rude, I stopped and got subway so I wouldn't eat that stuff... I felt kinda rude shunning her food but I have a goal to meet and it was the only thing I knew to do to keep me on track.
Today was chores and chilling...I made ribeye, homemade crab cakes, and grilled balsamic asparagus for dinner and it was soooo good! Here's a look...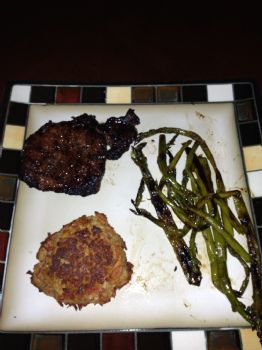 Hope you all have had a great weekend! Have a beautiful week!
~Christy