Sunday, June 23, 2013
Some of you may be wondering why I'm Momoffuzzies...or maybe who my fuzzies might be, so I'll take a moment to introduce them:
Bear - 8 y/o black lab/golden retriever/german shepherd mix. (big guy in pic)
Rosie - 6 y/o rat terrier (smallest little lady in pic)
Annie - 5 y/o jack russel/rat terrier mix (mid-size lady in pic)
I also have two cats, Baby Kitty and Allie (will post pic of them at later date).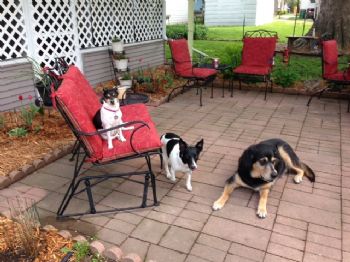 These fuzzy babies of mine just melt my heart. They all have their unique personalities and I wouldn't trade them in for the world! They have really helped me get over my 'almost' empty nest.