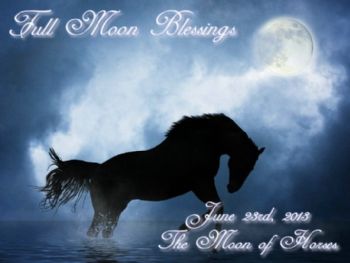 ~*~ Full Moon Blessings ~*~
June 23rd, 2013
The Full Moon in June is known as the Strawberry Moon, the Mead Moon, the Moon of Horses, the Lover's Moon, the Strong Sun Moon, the Honey Moon, the Rose Moon, and the Moon of Making Fat.
Herbs associated with this moon include Strawberry (of course!), Vervain, Parsley, Lavender, Orchid, Yarrow and Oak. Colors of the June Full Moon are Orange, Gold, and Green. Deities of this moon include Isis, Cerridwen, Ishtar, Juno, and the Green Man.
With the Sun is in Cancer, the Full Moon will fall under the domain of its opposite – Capricorn. Magick enacted at this time should focus on the elements of Water and Earth, restructuring those things which need change, intelligence, learning, awareness, finishing old projects, agility, new beginnings, adaptability, finding a new car or job, multitasking, meditation, and divination.
Blessings,
~ Away With the Fairies
Photo Credit: Susan M. Carter; Google Images
More posts like this at
www.facebook.com/
AwayWiththeFaeReiki