From Tasmania 3700 kms (2300 mls) to the tropical north of Australia.
Part 3 of 6.
The Skyrail from Kuranda to Caravonica (15 mins from Cairns).
Skyrail cableway was completed in 1995 and is 7.5 kilometres (4.7 mls) long. It was a clear day when I did the trip so I enjoyed sweeping views over Cairns, the hinterland, and out to the Coral Sea.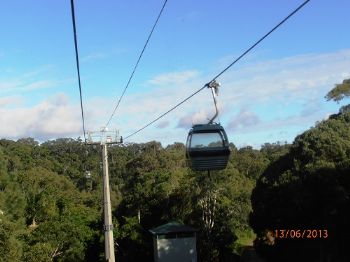 There are 114 gondola cabins. I was on the last trip to the Caravonica terminal so the oncoming cabins were empty; no chance to wave to any passersby.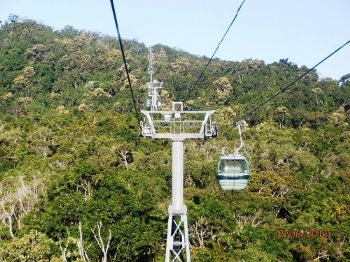 All towers were lifted into place by helicopter to avoid disturbance of the rainforest. The tallest tower is Tower 6 at 40.5 metres (133 ft).
There is an audible clunk and the cabin shakes going through a tower which is a little disconcerting.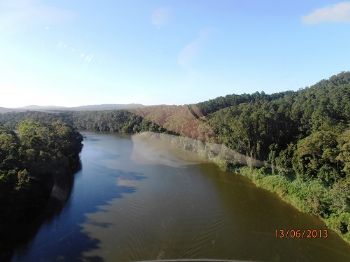 The best place to spot freshwater crocodiles, tortoises and water birds is while crossing the Barron River. Vegetation is influenced by the Barron River. The Cadaghi is one of the most prominent trees on its banks.
Eucalypt woodlands with an understorey of ferns, some many hundreds of years old, dominate this part of the Skyrail experience.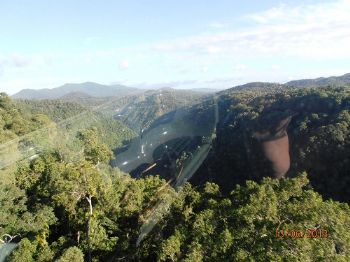 The gondola is gliding just metres over the canopy. Hoop Pine and lush Cooper's Tree Ferns, plus a climbing Golden Lawyer Cane can all be seen underneath the cableway.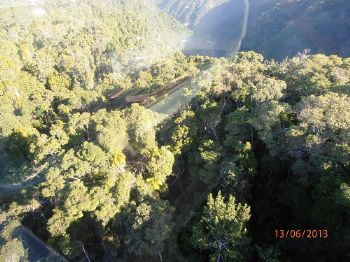 Many figs and wattles grow here including the Rusty Fig and Black Wattle. Looking down through the canopy I saw Scott's Ginger and Banks Banana; a large Banyan with many Basket Ferns growing on its branches. I was also lucky enough to see a giant hard-wooded Red Penda emerging from the canopy.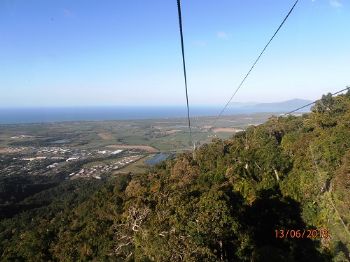 There were plenty of interesting sounds and the calls of rainforest birds, insects and animals; white sulphur-crested cockatoos and the bright blue Ulysses butterflies.
I hope you have enjoyed Part 3 of my vacation in the tropics of Australia.
Part 4 will be Green Island and The Great Barrier Reef.