Saturday, June 22, 2013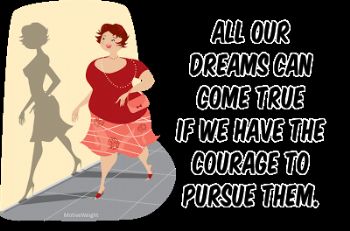 It reads: All our dreams can come true if we have the courage to pursue them.
This poster hits me as being something pleasurable. You can see her dreams are to be a thin person, one that will make her happy and self confident. But even if you are on the heavier side you can still be happy and self confident. What lies inside of you and how you treat yourself if you are large or small is the key.
Ask yourself about your childhood. Did you have parents that had you eating healthy or was your family eating mostly junk food. We learn by example. That is something I love about SP. I am learning by example. What works for others may not necessarily work for me but different ideas, articles and teams are what keeps me here. Well that, and my Spark Buddies that I cherish. So if I haven't told you all lately how much you mean to me.. you are the thread that keeps me sown.
Just for kicks: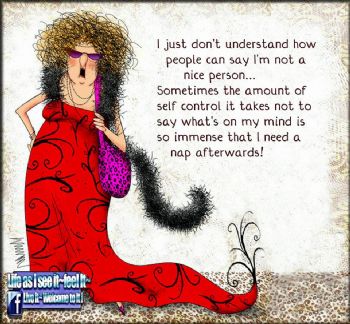 It reads: I just don't understand how people can say I'm not a nice person...Sometimes the amount of self control it takes not to say what's on my mind is so immense that I need a nap afterwards.
Happy Saturday wherever your dreams take you ~ Donna