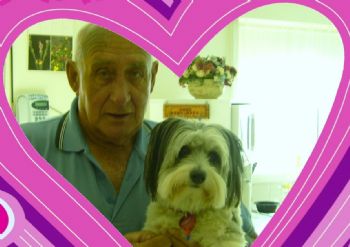 . Thought you may like a photo of Colin and his dog Bobby.
I am trying to make every day count and also making memories.
Colin felt like going out today so I got him in the car and drove two blocks down to the RSL .
He had his walking stick and I as usual, had my walking frame, when we tried to open the door to the lounge, we struck trouble as it was very stiff and neither of us are very strong now.
Two young men rushed to help .. They not only helped us in the door,they also escorted us to the dining room..
They pulled a chair out for Colin, then preceded to take another chair away so that I could sit on my walker.
What lovely young men! , I must admit that I was amazed that this was happening in this day and age.
We are so used to doing things for ourselves ..It was so nice to see this degree of caring.
We do try to eat out a couple of days a week as it gives Colin encouragement to get himself tidied up and get out and about.
We both need to keep moving as long as we can.
Thank you for your wonderful support and encouragement ..
If not for my Spark friends, I doubt I would be as fit and healthy as I am ..
We have received confirmation of help in our home .. This has relieved us both greatly ..
We have a wonderful health system here in Victoria .. So much financial assistance as well as emotional and medical.
Our Doctors practice, supports hospital in the home and when we can't cope any longer it will swing into place ..
Colin does not do well in Hospital .. He won't eat the food and feels so trapped.
He lost another 2 kilos in 3 weeks and had his Oxycontin increased to 10 mg twice a day ..
He is not suffering pain any more and he is feeling quite good.
Thank you for reading and commenting on my feeds ..
Hugs and Love to all Susie