From Tasmania 3700 kms (2300 mls) to the tropical north of Australia.
Part 2.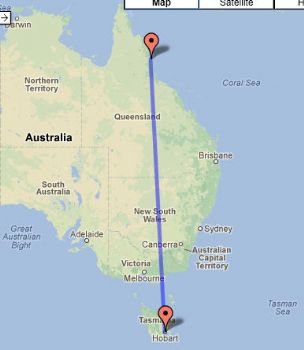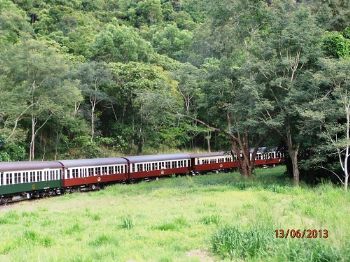 The Kuranda Scenic Railway is a name for the railway line that runs from Cairns to the nearby town of Kuranda. The railway is 37 km (23 mls) in length and takes almost 2 hours to climb one way.
Construction of the railway began in 1882 and was completed as far as Kuranda in 1891. Many lives were lost as numerous tunnels and bridges were built. 15 hand-made tunnels and 37 bridges were built to climb from sea level to 328 metres up the Macalister Range. Three million cubic metres of earth had to be excavated during construction.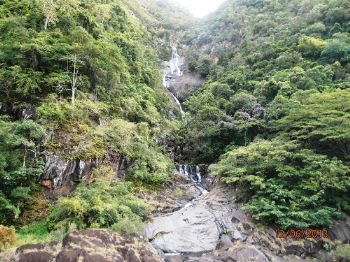 Barron Falls from the railway stop on the scenic journey to Kuranda.
Aboard an amphibious World War II Army Duck. Kuranda Rainforest Station has 12 of these historical vehicles, which hold up to 30 passengers and have 6 wheel drive, propeller and rudder.
I was the only Australian onboard; the other passengers and guide were New Zealanders from Auckland and Christchurch, Americans from Colorado, Seattle, and Wisconsin, 1 Canadian from Calgary, and the remainder were Chinese.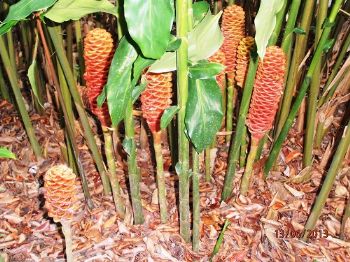 Ginger plants in Queensland's Kuranda Rainforest. These are warm climate plants so I never see them down south in temperate Tasmania.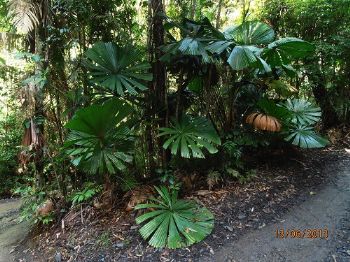 A frequent feature in the rainforest is the Australian Fan Palm (Licuala ramsayi). It is unique and the pleated leaf segments combine to create the shape of a Chinese fan. The leaves grow up to two metres wide.
Like many rainforest species, the Australian Fan Palm is particularly slow-growing. A single trunk can eventually grow to 20 metres in height to break through the rainforest canopy with a spectacular crown of circular leaves.
As the Army Duck splashed into the lake, with propeller engaged, we began cruising through the water with turtles, fish, and eels. At times there are water dragons and pythons sunbaking or slithering up trees, but we didn't spot any on this trip because even though it's 34 degrees Celcius (94 Fahrenheit) in the Rainforest now, it is Winter time here in Australia.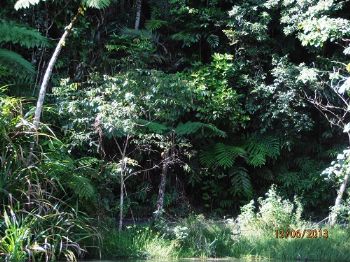 Taken from the Army Duck on the water in the Kuranda Rainforest.
The Kuranda Rainforest is home to myriad species of fern, orchids, strangler figs, and stinging trees, as well as birds such as the Azure Kingfisher and a host of other animals and reptiles.
I hope you have enjoyed Part 2 of my vacation in the tropics of Australia.