Pool Toy Art :D
Friday, June 21, 2013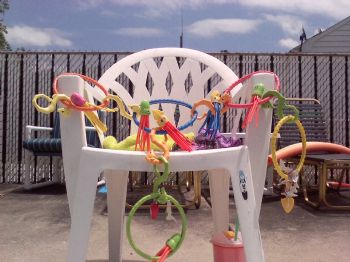 Behold! My newest creation of Diving Pool Toy Art! Each toy represents one lap (up and back) in my pool and I went for the record today.....are you ready for it?.....drum roll.......and the TOTAL amount of laps that I swam today is......19 !!!!

It was such a glorious day. I love blue skies with moving clouds and clear blue water that beckons me to jump in and glide through....well, I don't know how much I glide...but I feel like I'm gliding.

AND all this swimming along with eating the right foods and the right portions has allowed me to lose 5 pounds during these past 2 weeks!
It's the first day of summer and I'm excited to see a healthier, slimmer me during this season.
My daughter has been a great influence on me in making salads. Although it takes time to prepare them, she says "But its sooooo worth it, Mom," and she's right. We both agreed that eating fruits and vegetables and just making better food choices actually makes us so satisfied that we eat less calories but feel so content in the process.
I'M LOVING THIS SUMMER!