Day 7 with FitBit
Friday, June 21, 2013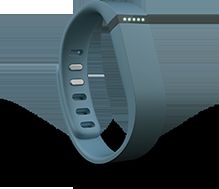 Unfortunately, and I hate to say it, but the more I use it the less I like it.
It is great at tracking your sleep quality/quantity. In spite of wearing it on my non-dominant hand it overestimates my steps and doesn't log actual activity for what it is - actual activity. I am becoming more and more disappointed with it with each passing day. Last night before I went to bed I logged onto the FitBit site to see my progress (or lack of) for the day. According to SparkPeople I was under my recommended calorie range but Fitbit exclaimed "OOPS!" It said I had consumed 1127 of my goal of 38 calories. 38? Calories? For the whole day? What kind of goal is that? I have it set to lose 1/2 pound a week. I need to become anorexic to do that?
I looked back at the whole week and what started out as fine as the days went by is now skewed and it looks like it says I'll be gaining weight. Today the numbers are all different again for my totals for each day and it says that I went over my recommended calories each day by hundreds or even a thousand calories. SparkPeople usually says I'm at the low end of my recommended range or just under. I trust SP. This FitBit site, along with this product, has not been helpful. Maybe this particular Flex has an issue, but the site is really a mess of glitches.
I so wanted to report wonderful things, but I just can't. If you are worried about your sleeping patterns then it's worth the hundred bucks you'll spend. Otherwise just wear a pedometer and track the intensity of your workouts yourself by checking our heart rate or your exertion levels on a scale of 1 - 10.
On the bright side... it's Friday!! Happy Friday, SparkFriends!