Friday, June 21, 2013
EARLY last Monday morning 5;30 am to be precise I left for an outing with my staff. It is traditional in Vietnam for companies/organisations to organise a summer outing for their staff. Last year we didnít do it as the husband of one of me key staff suffered a massive stroke at the age of 42. So this year I figured everyone needed a break so we went. They have all been working so hard with such long hours, it was great for them to get away. We went 5+ hours by van to a port, we then had lunch and boarded a boat to take us to Coto island. We didn't realise it, but the boat we brought tickets for was the market boat!! This might not mean a lot to you all but it means we were on this boat with various sundry goods and wall to wall people. I was getting seriously concerned as more and more people got on the boat, together with motorbikes and who knows what else in myriads of boxes. But we got away and apart from it being very hot and certain passengers being seasick, we had an uneventful 2hr boat ride jammed in like sardines.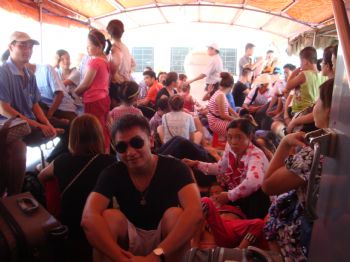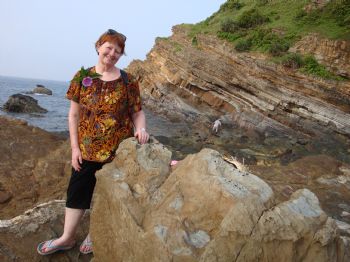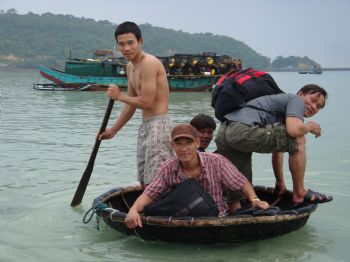 The island was beautiful and has only been open to visitors for about the last three years. Not many foreigners come here, as it is a border island and requires a special permit to get here. So most things on the island are pretty basic. Electricity goes off at 4:30 in the morning until about 6 am and can be intermittent through the day. It is a very hot time of the year 38++ so we were up about 5 every morning. It was so hot and that was the time to go to the beach or to explore the island. We would explore for several hours but usually were back in the hotel by 10-11am as it was just too hot to be outside, so we would end up having an early lunch and then resting/reading until about 3:30, when we would play games and then hit the beach again about 5:30pm until 7pm. We usually walked after dinner on the beach played more games and then to bed.
Our meals were pretty much all sea food and much of it I was eating for the first time, some of it I have no idea what we call it in English. We had these things that looked like giant preying mantises we had sea slugs and a various assortment of shell fish and sea snails of course more regular fish and prawns, and shrimps. All in all it was a very relaxing holiday for all of us. Now it is back into the city and back to our more normal routines