Picking up the pieces
Thursday, June 20, 2013
It's been a really hard week. I took off from work to pick up the scattered pieces of my fragmented self. I am, as many of you know, bi-polar, and I caught myself going down that all too familiar path towards a manic episode this week. I think I may have caught myself just in time. I am a bit sad, since I thought all of this was behind me. I am so thankful for SP though, just getting on here, reading some blogs and dreaming of a healthier me is making my heart a little lighter. I went to talk to a counselor today, which was really great. I am very thankful to have taken that step. I think it was a really good step in the right direction. I am going to see her weekly for awhile. I don't like spending the money, which is kind of silly because real help is priceless. I'm also going to make an appointment with a psychiatrist tomorrow. I need some professional help because I don't want to yo-yo with my mental health anymore.
The major highlight of the week was reciving this in the mail yesterday, along with an amazing audio tape and beautiful necklace from the wonderful Miss hippichick. Love that girl!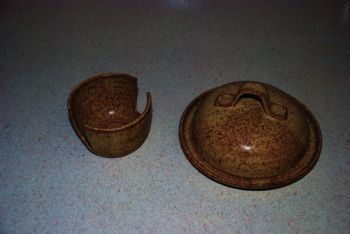 So happy, and thankful for these beautiful, handmade items. Sponge holder and butter dish, so functional, so beautiful.
I'm thinking I just might get some fit mins in tonight, you guys have really inspired me! Love you all.