"Your hand opens and closes, opens and closes. If it were always a fist or always stretched open, you would be paralysed. Your deepest presence is in every small contracting and expanding, the two as beautifully balanced and coordinated as birds' wings."
― Rumi, Essential Rumi
I recently listened to another wonderful Inside Out Weight Loss podcast by Renee Stephens in which she said that the most important tool for true weight loss is the ability to self-correct.
Essentially this means that when we engage in an unskillful behavior, like overeating or binging, we don't beat ourselves up, freak out, hate ourselves (which I spent 30 years doing). We make small changes to whatever we are doing, so that we move into a more grounded state. We lovingly bring ourselves back into balance through renewal strategies that work best for us.
I love this notion. Instead of trying to get back "on track" implying I'm "off track" or out of control or bad, I focus on getting back in balance. This subtle shift in thinking is very significant for me. The idea of focusing on finding inner balance or harmony feels like gentle self-care. The beauty and simplicity of this is tool is that I'm really just a deep breath away from balance in any given moment.
This strategy reminds me of the suggestion by Dr Amy Johnson that stress is my friend. When she first suggested this to me, I found it challenging to embrace. But now, more and more, I fully agree. Stress is my friend because it lets me know I'm out of balance. Stress is my friend because it lets me know I'm a breath away from inner peace. Stress is my friend because it reminds me that I'm in need of some form of renewal.
My husband's health has been declining lately. And remarkably, this advice about stress and balance came to me right before his recent struggles. Thankfully, armed with this idea of embracing stress as a reminder to take a breath and the goal to find balance, I've been able to calmly help him and take care of myself at the same time. I'm taking walks in a lovely park near my home as often as I can. And when I can't, I am still just a deep breath away from calm, from peace, from balance.
Yesterday, my husband was in terrible shape. I left for a 10 minute walk and found a lovely Tibetan store in my neighborhood where I bought myself this Om bracelet. Now when I wash my hands or even look at my wrist, I see the Om beads and am reminded to take a breath.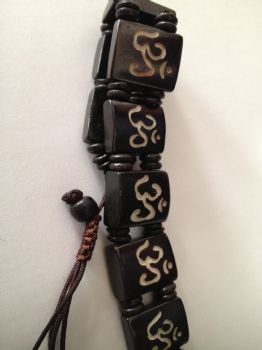 "what is joy without sorrow? what is success without failure? what is a win without a loss? what is health without illness? you have to experience each if you are to appreciate the other. there is always going to be suffering. it's how you look at your suffering, how you deal with it, that will define you."
― Mark Twain