What being 60 means to me. A true story, by Cat.
Thursday, June 20, 2013
It seems that we humans like to poke fun at stuff we aren't comfortable with. Maybe that's why I poke so much fun at Seniors.
I am one.
I turned 60 last November.
Yes, I know it's a number. But it's not JUST a number. It's a lot of numbers.
It means that I have lived 2 or 3 times as many years as those young whippersnappers on these exercise videos who are telling me I can have a firm butt if I do this 5 minute routine.
Or how about this one I bit on today: "Got 20 minutes? This easy-to-follow routine . . . . will strengthen and tone your entire body in no time! All you'll need for this efficient workout is a pair of dumbbells and a mat. "
Well, I tried it. And I thought I was going to have to call 911 !!!
Then I immediately signed up with the Chair Exercise Team and some of the 60+ Spark Teams. Maybe I can find some support there.
Support, that's what my saggy bits need the most.
(Disclaimer: The next couple are for mature audiences only. If you think there's a chance you might be offended, don't read 'em.)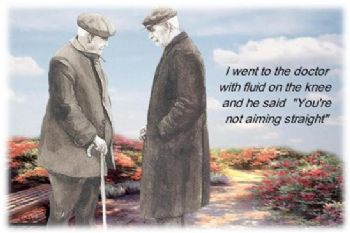 Now, where's my BenGay?