Thursday, June 20, 2013
Just a little quick vlog then before pics. Lawd help. Lol.
Here are the before pics 219.8 lbs as of today. I started out at 235.8 lbs on May 21st of this year. Oh and I'm a 'shawty'...lol. I'm 5'4.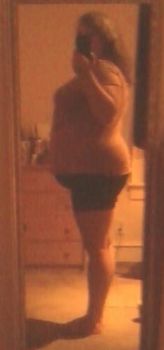 So as I've said....watch me shrink! I'll update as I go! :)

EDIT-I think I will not post another pic update until I'm under 200 lbs. I think that would be a good update time. Woot!

I feel I actually look brighter and better than this video makes me look. It's got me looking all ruddy and whatnot. Lol. And my eyes are much lighter than in this vid. Stupid phone camera. Grrr.