All ibuprofen is not created equal.
I was educated on that subject yesterday morning when Joan informed me that the generic stuff she'd purchased at a big box store wasn't doing the trick. "I just should have gone to Walgreen's." That was my cue.
"Do you want me to go to Walgreen's?" (It was 5:50 AM)
Out into the garage I bounded. (I'm quite a sight when I bound, lol) There sat my bike. I heard it beckon me and I thought "Why not. I't only 2.5 miles."
http://youtu.be/GugsCdLHm-Q
You can listen to this inspiring song while you read the rest of my blog. Let's hope it gets stuck in your head like it did in mine all day yesterday.
So off I went and I have to tell you it was a most enjoyable ride. On the way home I snaked through a series of alley's. It brought back a lot of childhood memories. I remember playing kick ball and being yelled at by our neighbors when the ball went careening into their gardens. I remember my dad burning garbage in the ash box and the pungent smell that went with it. I came to the realization that if you put a large trampoline in a small back yard the lawn wouldn't get cut completely. I uttered a silent prayer of thanks that my kids never wanted a trampoline. (They found other, more creative ways to break their limbs.)
I watched squirrels, rabbits and birds screech and skitter in my path. I learned that no matter how well you commune with nature a random bird will poop on your head from time to time. I saw the sun flex its muscles as it poked through the tree limbs and felt the breeze reassure me as I cranked towards home.
Being a old flower child at heart I began to realize that their were not only spiritual benefits to my adventure but I was helping prevent green gas emissions and Lord knows with the price of gas.......
I rode my bike again this morning and plan to integrate it into my transportation options, weather permitting.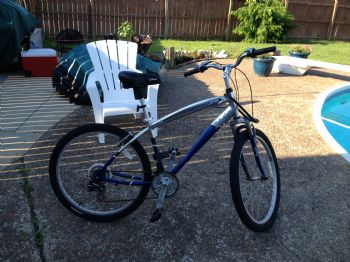 And there are the health benefits too, right?
See, I can write a blog about health and fitness!!!
Kinda, sorta.