FIrst, down another 2 pounds - woot!
These last few weeks, I've been working a lot on the mental aspect of weight loss. I don't think I ever fully dealt with that in the past, and it's long overdue. I've made a few realizations:
1. I am an emotional eater. No big surprise, right? Well, I've tried to deny it for years. I need to own it, because that's how I will get past it.
2. I am addicted to sugar. I think that's why it's always been so hard to lose weight, because I end up eating way more sugar than I think I do. That's gotta stop.
3. I feel like an athlete. Seriously - deep down, I love working out and sweating and generally feeling like a bada** in the gym. I want my outside to match my inside.
4. I love living healthy. Even though I've gained some weight back in the last 2 years, I've still been living a healthy lifestyle. I've never started drinking soda again, I eat fast food only a few times a year, veggies are my favorite foods, and I love being active. I am in a CSA and eat mostly local and organic produce. I love this lifestyle.
5. My body is amazing. It may not *look* amazing, but it is. It birthed an 8 pound baby after 41 hours of labor (yah. that was rough). It can do an hour long workout. It is generally healthy. I need to learn how to love my body, flaws and all, instead of hating every imperfection I see.
6. I need your help. That's right - you. Like most of us, I am so much more committed when I have another person to stay accountable to. Spark friends are amazing, in that they are always there to cheer you on, through the victories and the defeats. I am so glad to be back in this community - y'all are pretty awesome!
7. I barely know what true hunger feels like. This is the BIGGIE. I eat because I am bored. I eat because it's been an hour since I've eaten. I eat because I am upset. I eat because it's 10am. Whatever it is, it's rarely that I am eating because I am hungry. I am working hard on gaining more mindfulness in my eating, and not being so afraid of true hunger. It's a good, normal, healthy thing that I should be feeling every single day.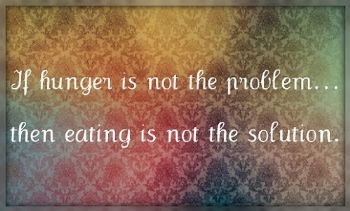 What about you, Sparkers? What revelations have you made on your journey? Got any tips for me in dealing with the above??