Wednesday, June 19, 2013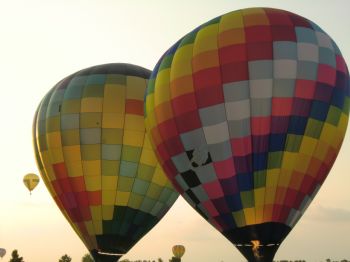 A photo I took at the balloon festival :) Balloons make me so happy


I was reading a bunch of blogs and message board posts today and got a little overwhelmed... there are so many goals I want to set, and so many things to, well, worry about in having a healthy lifestyle. I won't list them all here, but there are a LOT of things I need to do differently.
I had to remind myself of an idea I had a few weeks back, of tackling one project at a time and focusing only on that until I finish it. Now, of course I know we all have to multitask to a degree, but I'm bad about starting projects and not finishing them. (I think I got that from my dad! lol) So I vowed to, say, finish each craft project before I started another, or finish cleaning out one area before starting on another. I'm still working on do this... skipping around to what interests me at the time is a hard habit to break.
But anyway, I think this is a good way for me to approach getting back into a healthier lifestyle: focus on one thing at a time. Right now for me that is going to be tracking everything and doing my best to stay within my ranges. That has always been the key to any weight loss I experience, so I think that's the most important. Once I get a handle on this, I'll tackle the next thing.