On June the eighth my parents celebrated their 50th Anniversary, what a mile stone, and an example to all what can be accomplished.
The Friday before (31st May) we planned an Anniversary Dinner for our parents:
This is my parents.
We had reserved a function room at The Royal Hotel in Bridge of Allan, it was beautiful and the tables were set up the way we had asked, white chair covers with gold ribbons, we then added balloons and place setting cards. We had done up a seating plan, so we knew where people were sitting and who they are sitting beside, very important when you have families.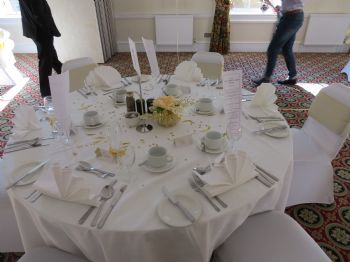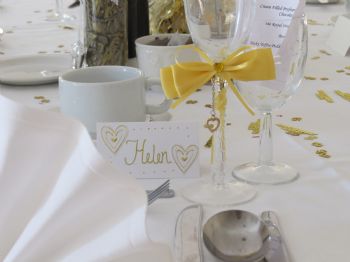 While we were setting up, and getting organized we asked my favourite aunt and uncle and his wife to play dominoes with my parents to keep then both busy and distracted it worked a charm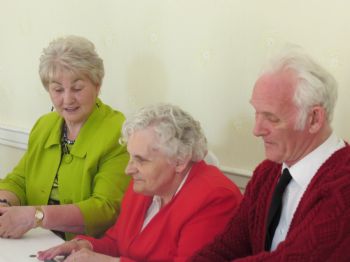 As people arrived and were introduced to each other we finished of the last minute details.
The meal was delicious and the staff were great, making sure everyone had the right meals etc.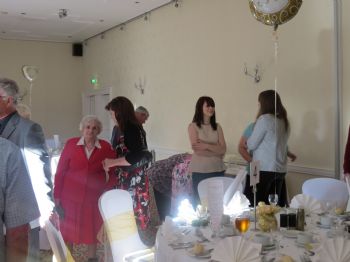 As the meal was winding up, my sister stood up and gave a speech, we then asked my parents to come up to cut the cake. My Aunt Janet had the cake made and decorated as you can see from the photo the cake was beautiful. She had my parents original wedding photo copied and laminated as the center piece of the cake. Then she made a favour out of yellow roses on the leaves she went up in increments of 10 years. It was very beautiful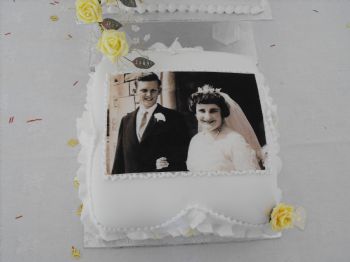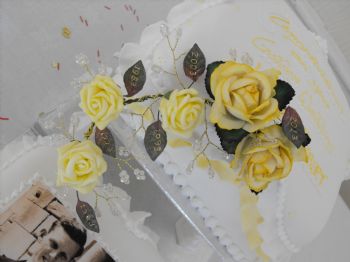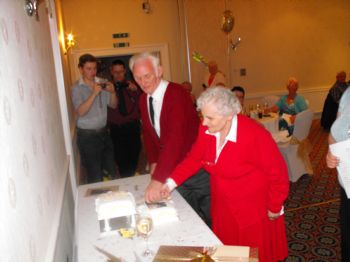 We decided after the meal to ask the manager if we could use the dance floor they had no problems and moved the tables to the side and lifted the carpet. We then put on some Scottish dance music, at first we played The Dark Isle I asked my parents if they would do the first dance, my dad said my mum could no longer dance, so I asked if they would do the first shuffle they agreed. Many guests had wet eyes when my parents stepped onto the dance floor that night, they enjoyed dancing so much in their years, here they are taking the dance floor.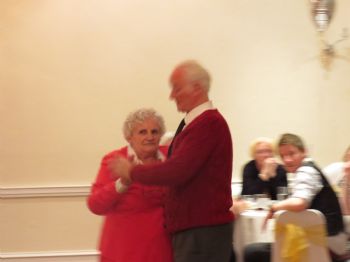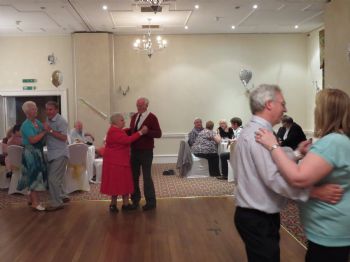 As the evening progressed there was lots of dancing and chatting and stories of times gone by, everyone had a great time, there were many highlights to the evening but one by far where many of my family will not forget is of my mum. Wayne and I had taken the time to download the UK #1 pop song that was in the charts the week of the 8th June each year from 1963 to 2012, but at the beginning we downloaded "Bobby's Girl". This was my mum's favourite song when she was dating my dad. Towards the end of the evening we played "Bobby's Girl" again for my parents my mum started to sing it, her whole face lit up as she looked at my dad it was beautiful, this was the picture Wayne caught. Their were a few times where it was hard to fight back the tears.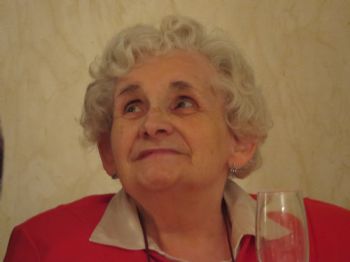 Sadly the night had to end, as people left they commented about what a wonderful evening it was.
Here are a couple of pictures that were taken of our family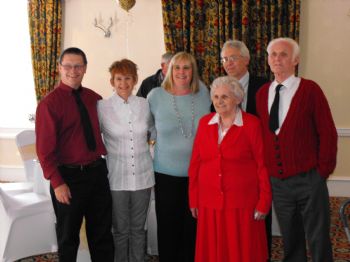 This is Wayne and I, my sister June and her partner Alan and my mum and dad.
Lastly this is a picture of my favourite Aunt, Aunt Natalie and I, then a picture of Wayne and I.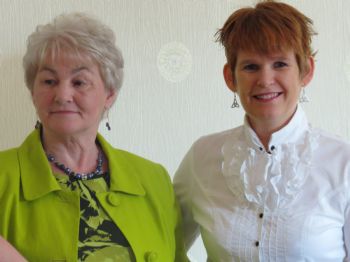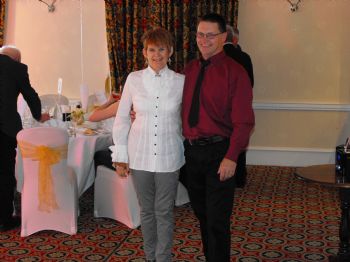 This was the cake table.