Did you see the AMA is recognizing obesity as an illness? http://www.myfoxphilly.com/sto
ry/22627690/american
I hope this opens up treatment for everyone, as insurance companies are forced to pay for obesity treatments. Right now, my insurance plan (and not the company, because I know for a fact that Blue Cross/Blue Shield pays for obesity surgeries in other company plans) will pay for NOTHING having to do with obesity treatment. I hope that changes before I turn 65, not that I'm a candidate for WLS anymore anyhow. But drugs can help and there are some new ones out there that seem promising, but are prohibitively expensive right now without insurance helping cover the cost. Even counseling might help and perhaps that would be covered by insurance eventually.
Dr. Nancy Snyderman, the Today Show's M.D., said this morning that two-thirds of the population is considered overweight. I am in that two-thirds with a BMI at my current weight of 155 pounds coming in over 25. I need to drop 10 lbs. to get to that magic below 25 BMI, but I also figure I've got at least 15 pounds of excess skin hanging around. So I don't consider myself overweight, at least not too much!!!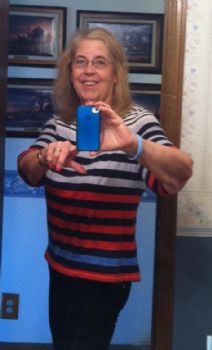 I don't think I look too bad in my exercise tights, ready to go walking this morning, even if technically I'm part of that overweight majority.
As far as I'm concerned obesity has always been an illness. It's a terminal disease, that kills, usually slowly, but along the way, a person's life is lost inch by inch, by the imitations imposed by being morbidly obese. I don't have ONE episode in my past that caused my obesity--so counseling is probably not going to help me, although it might help me discover things about myself that would help me control my eating. I did not have an abusive childhood or marriage, I'm a happy person who just enjoys eating, even when I'm NOT hungry.
So I'm ill. I've worked hard to conquer my illness, but it's definitely moment to moment and I still find myself obsessed with food--thinking about my next meal before I'm done eating the current meal. I'd like to tell myself that I'm so content with my new lifestyle, that I have no fear that I will lose that control I work so hard to keep, and regain all my lost weight. But I just don't think I'm all that confident......yet.
Right now I'm wondering if it would be okay to go on our local University Campus in my exercise capris (SEE PICTURE ABOVE) to purchase the Office Suite software from the Computer Store there? How many stares would I get? Right now the campus is over-run with middle and high school kids taking part in various camps and schools. Sometimes those kids can be ruder than college kids. But I think I'm confident enough that I look okay to venture down to Campus dressed like this. I'll let you know if I get any rude comments.