Tuesday, June 18, 2013
Did you love eating Hamburger Helper before you decided to start eating clean? Do you need a 20 minute meal you can make for the whole family? My Healthy Hamburger Helper is perfect!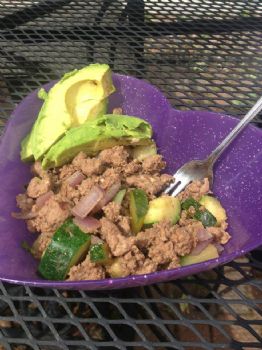 Ingredients:
1 pound(s) lean grassfed beef
2 zucchini, coarsely chopped
1/4 red onion, chopped
4 tsp truffle oil
2 tsp minced garlic
chili powder to taste
sea salt to taste
Directions:
Add all ingredients to frying pan and cook until meat is fully cooked. Use as much chili powder as you like. Add salt after it is cooked.
Nutrition:
*Makes 4 servings*
Cals – 246
Carbs – 7g
Fat – 13g
Protein – 26g
Kyra,
The Get In Shape Girl