Happy Monday all! Grab a cup of joe, this may be a long one. If you guys haven't figured out, I am a big Vikings football fun. Huge. It's really quite sad. I'm not at the point will I stalk and haunt players down, but pretty darn close. LOL. I found this race last year, but due to issues, we were never able to run it. This year, we knew we had to, so it was done.
Luckily, we had the kids that weekend too, so they were able to do their first run also! Big family affair. The only bad part was trying to get us all up bright and early to get there on time. The kids race started at 830, ours at 9, and it was about a 90 minute drive from our house to there. Hence me waking up at 5:45, and the kids at 6am. They are not used to getting up that early.
We all were up and moving and headed out and on the road. After getting a bit lost for 5 minutes we found our way there and got out stuff. My poor Mya girl. She was SOO terrified to run! I have never seen her like that. Usually she will go up to anybody and make conversation, but she just stared around doe eyed. The MN cheerleaders came over to talk to her and cheer her up, but she was just dead quiet. Caleb too. I think the big crowd scared him though.
The kids run started off, and man that was a long run. My brother and I went to the start line with the kids, just to be safe if they needed help. Once the horn sounded, Mya was off. She flew! We all missed her go by and she just ran. Caleb on the other hand didn't fly. LOL. About 50 feet into it he wanted us to pick him up. So I got him, and Tom got the stroller. We probably looked like fools running down the road, but who cares.
Afterwards it was the start of our race. One thing I have come to hate is that us slow people in the back of the start miss all the stuff at the beginning. The players did some sort of cheer and we missed it, which sucked. Next time we will hang out at the start and jump in later. We were off and immediately I realized how hot it was outside. Even though it was only 70, there was no clouds in the sky, and no shade! We have been lucky lately with our 5K's. 60's and overcast. Now that summer finally hit, it will suck.
Tom and I stuck closely together, just talking and listening to our music. It should of been a sign there, and I should of starting pushing it harder, but I just couldn't get myself to move. I think it was a mix from being up so early, the heat, and my knee killing me. My right knee was happy with my strap, but my left was not. It's funny to see how bad my knees are getting with every race, and a touch scary.
Even though we weren't pushing it as hard, the race seem to fly. Before we knew it, were had less then a mile left. Once we got around the lake, which is beautiful by the way, I saw the finish and knew I had enough gas in the tank to sprint to the end. Tom was in front of me grabbing my niece, she loves to finish them with us, so i just took off. Tom has beaten me at our 5K's the last two times, so I really wanted to beat him. I sprinted at hard as I could, surprised my legs didn't fall off, but I crossed the finish line, beating him by a second! I shouted out "I beat you!" to him and the crowd laughed, even some of the football players.
Afterwards we stood around to hear the winners, see the kids get their medals, and prizes. Sadly, I didn't get any prizes but thats okay. I got pictures instead! After standing in the sun for 3 hours, I just wanted to go. I didn't get any pics of the players at this point and I was just exhausted I started to cry. My mom couldn't figure out why, but when I get really tired, I just cry. My mom knew how much I wanted pictures of the players, she hunted them down so I could. It was funnier to see it in person, but seeing my mom poke a 6'6'' man in the back and calling him sir just to get a pic for me was priceless. She rocks.
Would I do this race again? In a heartbeat. I love football and my team, we will be back next year, and I will be pushing myself a lot harder. I have made it a goal now to step it up in running. Zumba and hip hop may be pushed to the side for right now. I need to get faster. I hate the time I got at this one. I know I did better then some, and the people who didn't run it at all, but I am my WORST critic. I will get better.
And now, for pics!

Hot, hot hot!

Time: 42:45
Place: 271/332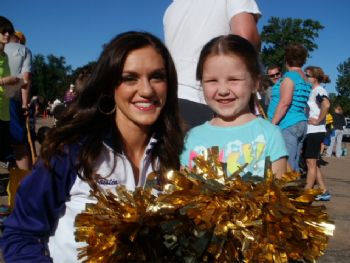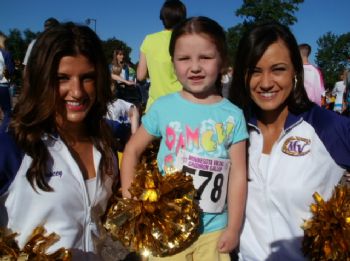 Mya and the cheerleaders.
She was so nervous!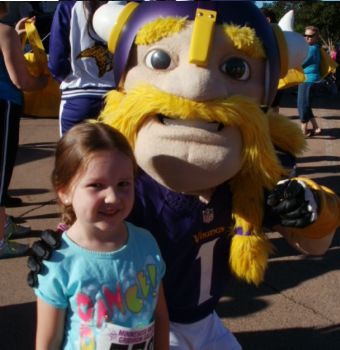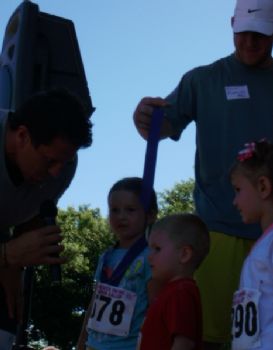 Mya and Caleb talking to Chad Greenway and getting their medals from Kyle Rudolph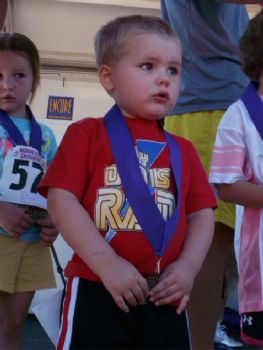 Caleb with his medal.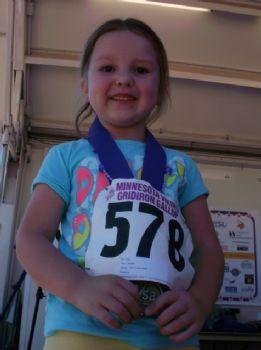 Mya with her medal.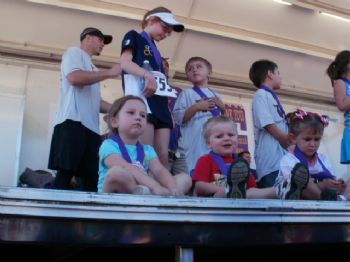 They were starting to get really hungry.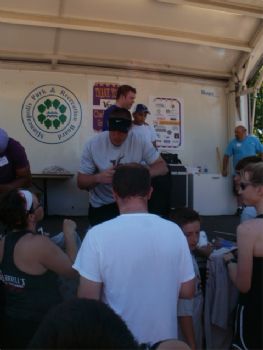 Harrison Smith signing Tom's football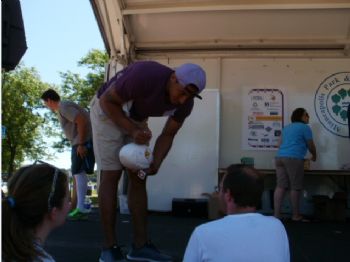 Robert Blanton signing Tom's football
All of us with Chad Greenway!
Me with Harrison Smith.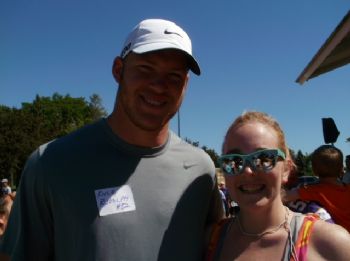 Me with Kyle Rudolph!!
Amazing experience, and crossing it all off the bucket list!
Next up: Stewartville Summerfest 3 or 5 miler on 7.4.2013
-- Elyse