A little bit more...Just another step
Monday, June 17, 2013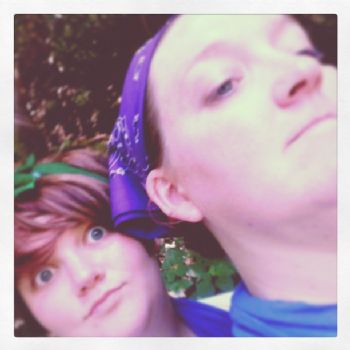 My daughter and I have been to Cloudland Canyon State Park, GA twice this year. At the beginning of the month we were wore out with the hike we took. The photo you see here is one of us going back up the many steps it takes to get back up the side of the canyon. We were on a break. We decided to take a photo and we always take one that is crazy and fun. I have had a great time with her each time we go.
Last year I was diagnosed with high blood pressure. After the doctor said that they stated I needed more exercise. So we went to the canyon, lol we have gone every year. However, last year was rough because I was out of shape, having blood pressure problems, and was dumb enough to not pack enough supplies. I didn't think the trail was that long. We only did about 3 miles and that includes going down the side of the canyon and down this trail to see waterfalls. It also counts when you go back so that is an additional 3 miles. I was ready to call life support and just ask them if they would come and get me with the helicopter.
This year...
I have had more energy because I have been slowly working my way back to gaining my strength back since my accident from work. We have been twice although the second time we took the trail down the side of the canyon and I say every time I won't do this again. My daughter laughs and says, "Yes you will." So the above picture is when we were half way up. We only did 5 miles total but it felt amazing!
I look forward to next year.