Do The Work To Break The Cycle
Sunday, June 16, 2013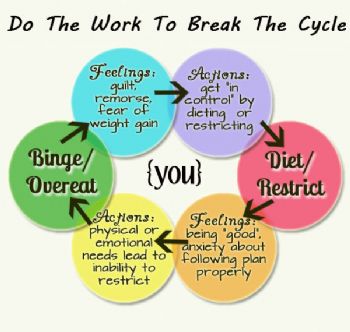 Two things I've done during my time here that are super important are practicing portion control in conjunction with working on my emotions. Why? Because they're both interconnected. When I share how I work every day at syncing up my body and my brain it's these actions I take: portion control, listening to my body, practicing moderation as opposed to deprivation, letting go of being perfect, and allowing my emotions. Doing so allows me continued success.
Yes, it is hard work. Sometimes I feel like I don't want to do it, but I forge ahead anyway. Like breathing, sleeping, eating, and drinking, it's something I need to do to continue being healthy both physically and mentally. Because that's my SP goal.
Reaching a specific number on the scale by a specific time is not paramount. Becoming the healthiest I can be is. Especially if I want to continue enjoying my success. I do the work now even when it's hard and enjoy it for the rest of my life. Or I only do part of it, coast for awhile, and then one day wake up right back where I started as I've done in the past.
Losing the weight only changes my outside; inside stays the same - that's why I work everyday at making sure the cycle stays broken.
What are doing to break the cycle you're in?