First - thanks for all the great comments about my haircut, roses, rum, clothing choices, and birthday. My SP friends are the only reason I show up some days.



Well, here is my progress:
My weight is up .7 lbs to 184.7 (AAAARRRRGGGGGHHHHH!!!!!!).
My measurements haven't changed for the worse, so I'm not concerned about that anyway. And my body fat percentage is lower than last time, though it's partially driven by weight, so not super-accurate anyway.
But my measurements haven't improved either. They're the same.
I'm guessing that there's some body recomposition going on, but it's not visible. I'm getting STRONGER, as evidenced by my increased weight, longer planks, ability to do pushups, faster body weight matrices, etc...
My pictures haven't shown improvement from three weeks ago. But here are pictures of me half-nekked anyway. In each pair, the top is from May 24th or so, and the bottom is from June 15th. Airin was closer when he took the pics of me this time, so I look bigger. If he only moved further and further away, I'd be getting smaller!!!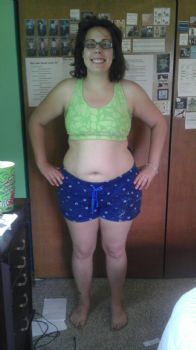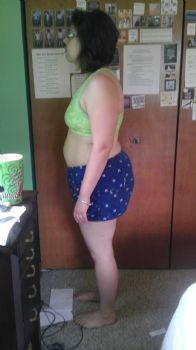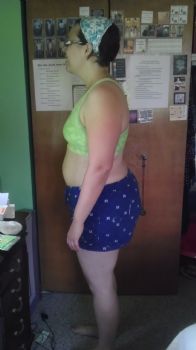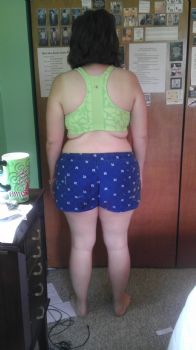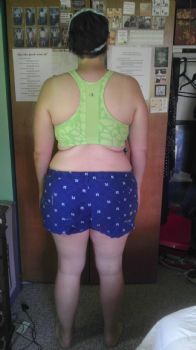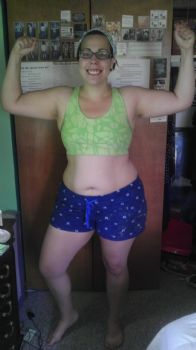 My nutrition averages for Stage 3 (aiming for 1800-2200 calories/day):
Calories = 2000
Fat = 80
Carbs = 200
Protein = 100
Fiber = 20
My macro averages for Stage 3 (aiming for 30% calories from protein):
Carbs = 42%
Protein = 22%
Fat = 36%
So, I'm going to reduce my calories a little bit - aiming for 1600-2000/day. And I'm going to increase my protein so I have about 30% of my calories coming from protein. I'm aiming for about 140/day right now and I've only reached it once or twice in Stage 3. I'm going to aim for around 180 now. God, I don't know how that's going to happen. Yikes.
I start Stage 4 tomorrow, which is a lot like Stage 2, just with different numbers of sets and reps. I missed the S2 workouts, so I'm excited to get back them!
I finished S2 with 115lb deadlifts. My goal for S4 is to do 135 lbs. That's with the big plates (45 lbs each). When it happens, I'll post a video.