The Oxfam 100km walk was this Friday through Sunday. It consists of teams of 4 walking 100km. You have to leave each checkpoint as a team and you have to start with 4 people. Our team consisted of me and 3 50 year old guys. I trained with two of them, Gary and Vince, and the third guy, Digby, we found online as he needed a team to join. He told Gary who organised the team that he would be more than capable of doing 21-22 hours even though his fastest time previously was 24 hours.
Going into this weekend I was actually a bit nervous. I had hurt myself and really had not done the amount of training two of my teammates had done. They had walked a lot more hills which my hamstring didn't allow. While I had my doubts I knew it was going to take a lot for me to stop.
The event started with a 330am wakeup with a lift to the registration area and then a bus ride to the start which was on the top of Mount Glorious which is over 600m. I was well prepared with all my gear and had gotten a decent sleep. At 7am we set off. We walked as a group for the first hour heading down hill. My plan was to run some of the downhill and flat sections to make up for being slower walking up the hills. The first two sections had large downhills and then a steep rise up to the checkpoints. My plan worked well getting in behind Gary and Vince by 5 minutes or so. Unfortunately Digby was much slower on the hills taking an extra 20 minutes.
I have to say I was a bit frustrated as my hip was hurting from very early on. My hamstring felt okay but my left ITB must have been compensating as it ranged from uncomfortable to quite painful. I sort of felt that if I could go at the speed I was going and in pain then Digby should be able to keep up. But to be perfectly honest I've never been a great team player and there wasn't anything that could be done about it.
The event consisted or 7 sections with 6 checkpoints. I made a point of just getting from checkpoint to checkpoint and keeping negative thoughts to a minimum. I also tried to make sure I kept up eating and drinking as it became very easy to lose my appetite. The first 3 checkpoints weren't bad and we reached about half-way right on dark around 530pm. The hardest section was started just as the sun was setting. It had about 13 creek crossing that ranged from ankle to knee deep. I decided to switch to an old pair of shoes and carry my other sneakers and a dry pair of socks with me. I got the old pair off our support crew at checkpoint 3 and tied the other pair to my backpack. It was great to be able to just walk straight through the water. After all those creek crossings there were two massive hills, the second was really steep and went on for about 2km. I think it was almost good that we did it in the dark.
By checkpoint 5 we had done 76km and it was midnight. I got in an argument with Gary since he was having a whinge about getting cold at the checkpoint because he had to wait too long for us. I told him a simple solution would be to walk with us instead of as fast as he could since he couldn't leave the checkpoint without us anyway. We're fine now but I still stand by my point. Vince and I had walked together for a couple of sections anyway with Digby lagging behind so I had company anyway. I have to say there is something peaceful about walking in the dark with a headlamp by yourself. Especially if you know there's someone behind you in case you get hurt.
With only 23km to go I was sure I was going to finish but it was still hard. It was kind of cold and I was definitely reaching a new level of exhaustion. The really steep downhills were becoming more challenging than the uphills, although I wasn't enjoying them much either. Playing cat and mouse with some of the other teams helped a lot too. There were some really great people out there and everyone was very supportive. I felt really bad for one guy who was sitting on the side of the trail about 3/4 of the way up a big hill. He told us he was just having a rest but he just looked so exhausted. A couple of his teammates were at the top of the hill heading back down to find him so I'm sure he was fine in the end.
After a really long uphill and a very painful walk down steps I finally got to the finish in 22hours and 36 minutes. I have no doubt in my mind that I could have done it in closer to 21 hours if it wasn't a team event and we didn't have a team member slowing us down. Our official time was 23:09 as that team member managed to get lost in the last section. I'm still not sure how as it was pretty well marked but he was also quite exhausted. Overall I'm thrilled with how we went especially considering how painful I was at times.
Looking at the results I also realised just how hard it was. There were a lot of people who dropped out. One of the other teams from Rockhampton had all 4 members drop out at 44km. I must say that while I was tired and wanted to be done for a large portion of the second half I never seriously though of quitting. I guess it makes me realise how fit I am and that apparently I have a pretty high level of mental toughness. It is pretty amazing what you can accomplish if you put your mind to it and don't allow negative thoughts to creep in.
After the event I had a shower, which was close to the best shower I've ever had and then I went straight to sleep. I couldn't bring myself to stretch or ice myself. I did stretch when I woke up a few hours later. I have to say I am not just sore but actually swollen. My thighs are very sore, particularly my quads. My lower legs are sore and feel a bit like they might not be able to support me. My feet are swollen and I've got a few blisters. Even my belly/hip area looks a bit swollen, I thought I was seeing things but my husband agrees now that I'm home. My hips are really sore, particularly my ITB. They feel a little better today than yesterday so hopefully tomorrow will be even better. And even with lots of bodyglide I have lots of chaffing on my thighs and across my back. Apparently my seamless sports bra was really rubbing on my back having a pack on. Here's a very attractive photo of it. I am just super thankful my regular bra sits above the sores.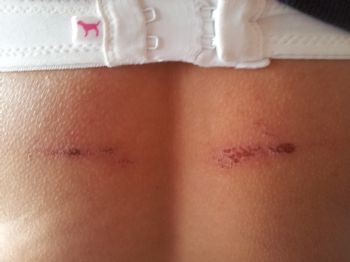 After all that pain I think I would only do such an event again if I become fit enough to run more of it. While the distance is hard the fact it takes sooooo long is more of a challenge. To maintain that level of focus and to have to keep pushing for 22 hours is a challenge to say the least.
Now that I'm done I plan to take 2 weeks off running and walking and if I can never walk up a hill again I wouldn't mind! I will keep going to my fitness classes. Pump in the morning although I don't think I'll be doing any leg exercises. I'm planning to give my leg enough of a break that I can get my leg to 100% pain free.
I was too exhausted and cold to take any photos at the finish line but here's a couple from the start. From left to right there's Vince, Gary, Digby and of course me.