Spark, it's been a while. So much has happened in the last year and a half! I haven't fallen off the fitness wagon, but I definitely haven't done that much to get to my goal. There are so many things, I'm gonna have to use bullets :)
- The biggie: I had a baby! November 10. 2012, baby August was born. He's pretty darn amazing (and that's coming from someone who never wanted a kid!) Losing the baby weight has been hard. See below for some pictures of how adorable he is :)
- I quit "smoking": I actually haven't smoked for years, but I was pretty addicted to Nicorette gum. I quit cold turkey when I found out I was pregnant, and packed on about 10 pounds within 2 weeks :(
- I had a personal trainer: And I kept up the workouts until I was about 4 months pregnant. I fought through nausea and tiredness and kept going. I ended up quitting that more for financial reasons, but once I quit with the trainer I didn't do much in the way of fitness for a long time.
- Law school: I took a year off to have the baby, and it's been AMAZING. I will start back this fall for my final year. I'm already dreading it.
- Moving: My amazing, talented husband got a job at Yale. Starting next year, he will be a tenure-track neuroscience faculty. It was his dream job, and Yale will be an incredible place for him to build his career. So, 1 year left in NC, then Connecticut, here we come!
- New gym: I joined a great local gym that has an excellent day care, so I can drop August off while I do my workout. There are 3 pools, and my husband likes to swim. He also takes August in the baby pool, and he loves it. It's working out really well!
- Breast feeding: OHMYGOSH I am hungry all the time. I am still not sure how much I should be eating while nursing - some things say 300, others 600, more calories than normal. This is my major struggle right now.
- Weight Watchers: I tried it. Didn't like it. It's got nothing on Spark! I'm so glad to be back here :)
- My hair: I cut off 15 inches! It felt AMAZING. It's pretty liberating to have short hair :)
So, now I'm about 18 pounds heavier than I was last time I logged in. I'm exhausted (my little guy does NOT want to sleep - I haven't had more than 2 consecutive hours of sleep in over 7 months). But, for the last 3 weeks I have been going to the gym 5 or 6 days a week. I've been watching what I eat and tracking. This feels like an enormous victory for me, since I am so tired. The scale hasn't really budged, but I feel great.
I'd love to hear from all my old Spark friends, and make new ones. The best thing about the Spark community is that you are always welcomed, and never judged. I've missed y'all!
Without further ado, my adorable son...
With my husband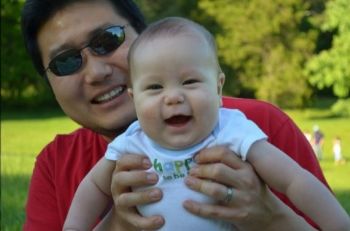 Eating his veggies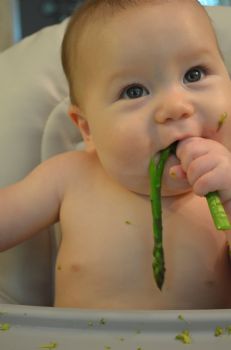 With me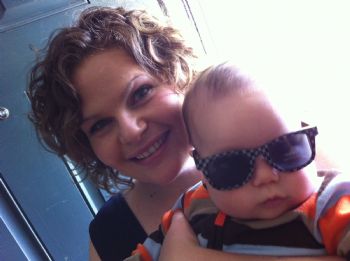 Here's me pregnant and feeling like a whale
And here we are getting ready to go home from the hospital