Time to Stop Hiding...
Friday, June 14, 2013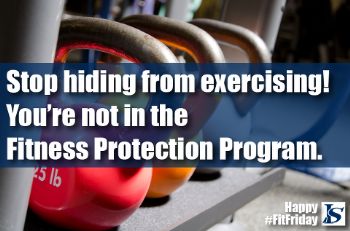 Saw this on tumblr today and it totally made me laugh... Fitness Protection Program sounds a lot better than Just Plain Lazy!






I've been struggling a bit with the goals I set for the month. Even as warm as it is, it hasn't been easy for me to get my water, and my cardio has been kind of hit or miss.
Rather than wait until July to set some new goals, I figured I'd pick one or two simple (seeming) things to for the rest of the month.

Tomorrow I'm going to start a cardio streak. I'm not going to set a goal like 45 minutes a day for right now... just 15 minutes dedicated to physical activity each day for the rest of the month.

And I've got to do better with the water. I've never had success without it, and I've been a professional dieter for thirty years.
I'm going to stick with those two for the rest of the month. Just working on consistency for a while. (Maybe some consistency with blogging too...)
Have a great weekend!