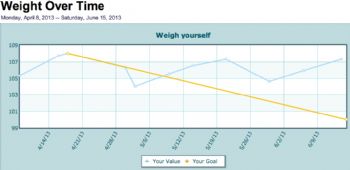 There it is. My weight chart that looks more like a roller coaster. I can't really say I'm surprised because my life and eating habits have been up and down as well. It's just frustrating because I want progress.
I keep telling myself every little decision matters. Every little thing I eat or drink matters. Every time I do or do not work out adds up. I WILL see progress again, despite all these ups and downs, I'm feeling surprisingly hopeful, at least for the moment.
I just got back from Trader Joe's with lots of healthy goodies. And score, I found a new green juice to try! I also filled up my Spark planner with my new fitness plan; I have a workout planned every day (well including active rest days) from now until July 18th; we'll be traveling for a wedding that weekend and I want to look DAMN GOOD for it. I'm wearing a dress that is kind of open in the back and as always, I really really need to work on my arms so I'm not as self conscious when I dance. It's kind of disappointing because I feel like my exercise days/plans always get messed up, and I fall behind where I'm supposed to be from what I outlined for myself; so I think why do I bother. This time will be no different, I'm pretty sure I have another business trip in July, before the wedding, that will mess up my schedule. And, I need to be better than I was on my recent business trip, I don't know WHAT it is about going away that makes me feel like I can cheat and crave candy on the plane ride. ugh. Another test to stay on track.
Anyways, here's my fitness plan from now until July 18th, even though I know it is going to get messed up:
Mondays: Barre class
Tuesdays: Still going to PT (if not, then do some abs or other custom workout)
Wednesdays: Jillian's Body Rev wk 7 (I'm still 're-doing' her body rev but only alternating with other things as part of my whole fitness plan)
Thursdays Barre core class
Fridays: Cardio (or at least active rest/walk)
Saturdays: Cardio (or at least active rest/walk)
Sundays: Jillian's Body Rev wk 8
I like to give myself some flexibility on the weekends because I tend to be doing other things or not feel like working out, that way if I skip Friday, I can make it up on Saturday, or if I know I'm doing something on Saturday, I should get it in on Friday. Or make one day a harder cardio, rather than "active rest" or walking and then have the next day be complete or active rest.
I've also found a new way to have some fun when working out, and even the bf has gotten into it. Admittedly, I am a huuuuge nerd and Buffy is my all-time favorite show. I found a Buffy "drinking" game on Pinterest that they turned into a workout game, but I totally upped the ante and developed my own, with more exercises. Yep, did I mention I'm a nerd? So if you're curious, here's my Buffy workout game:
-Giles cleans his glasses: 20 jumping jacks
-A demon attacks or comes on to Xander: 10 pushups
-A vamp is dusted: 10 mountain climbers
-The Hellmouth is mentioned: 10 squats
-Willow uses magic: 8 lunges
-Anyone else uses magic: 10 knee thrusts
-Dream sequence: jog in place til over
-Someone "vamps out": 5 rock star jumps
-Research is done: 10 jack knife situps
-British slang: 10 tricep dips
-"Buffyism" or new adjective is created: 10 bicycle crunches
-Someone is insulted:5 chaturanga pushups
-Anya references sex or bunnies: 5 side kicks (each side)
-Dawn whines or screams: 15 plank jacks
-Buffy makes a speech: high knees for length of it
-Xander drools over a girl: 10 jumping squats
-A man/vamp is shirtless: 10 side plank raises, per side
-Bronze (in or mention of): 15 plie hops
-Willow computer hacks: 10 push up with plank twists
-General witty-ness (pre slaying etc.): 10 squat thrusts
-Buffy power-tripping as Slayer: 10 windshield wipers
-Obvious stunt double: 10 punches
-Buffy is training: speed bag for duration
Bonus: Buffy dies: high knees for a minute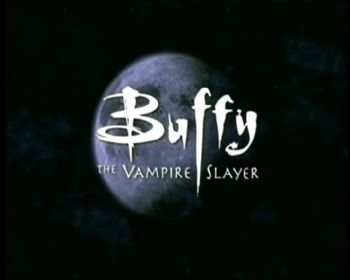 Happy slaying lol