Thursday, June 13, 2013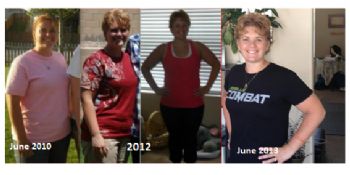 I feel compelled to share my fitness/healthy living journey with everyone! I have never really been confident in my own body but looking back at high school pictures I would love to be there again... I got pregnant right out of high school and gained ALOT of weight with that pregnancy!! Once I had my oldest son I did NOT lose the extra weight I gained...Dumb move! Then a few years later we decided we wanted to have another one. So here came another round of weight gain.
Fast forward a few years later...I did lose all the extra weight by working out with Tae-Bo, Strength Training and weight loss pills. Yes I said it I was one of those who used to take weight loss pills. They helped me lose weight but once I stopped taking them...guess what..the weight came back on plus more.
One late night I was watching TV; feeling defeated & depressed, then came on a Beachbody Infomercial with the program of TurboFire. I immediately fell in love with Chalene Johnson and her energy and the music was amazing. I asked my husband if we could order that so I could get into shape. He agreed!!
When I first started working out, I did not follow the schedule and did not really watched what I ate but still managed to lose 30 pounds. I was like I got this! I do not need to follow the workout schedule or go by their nutrition guide. I was thinking I was smarter than them. HA...so not true. I lost the 30 pounds and was stuck for a while. I then decided to follow the workout guide and menu plan (well for the most part, I do substitute some of my favorite meals I have along the way). And lost another 10-15 pounds.
Fast forward to 2013...I have been stuck at the same 30-40 pounds I want to lose. I just kept doing TurboFire over and over again. I would add in some ChaLEAN Extreme & P90X in there every now and then but I still was not losing weight or inches. My body was too used to TurboFire and it was time to shake it up. So I decided to really mix it up and do Insanity! So far so good...losing a lot of inches and 3 pounds so far. My biggest struggle is still my eating. I like to think I eat what my teenagers eat but that is not the case! I am working on that everyday & I do better than I did the day before and that is what really important! I am just a REAL person trying to get in shape and lead a healthy lifestyle to be around for a long time for myself and my family.
I became a Beachbody Coach to help people like me who are just wanting to change their life and get healthy and fit.