Thursday, June 13, 2013
There is a web page for environment friendly tourism in sweden and our theatre has been accepted for it after a very thorough examination of all our standards. And one of the events we offer is "a beaver tale" where the participant walk along a path that passes a creek where the beavers reside. As they are very shy animals we do offer a "real theatre beaver":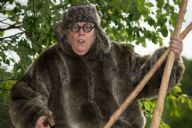 Yes, it is yours truly and it is not exactly flattering... but a fun character to perform! I speak with some sort of swedish hillbilly accent and am very friendly and well-intended...